Elia Kazan—Genius or Informant?
Updated February 28, 2017 |
Infoplease Staff
Half a century after McCarthyism, the Academy Award-winning director is again under fire for naming names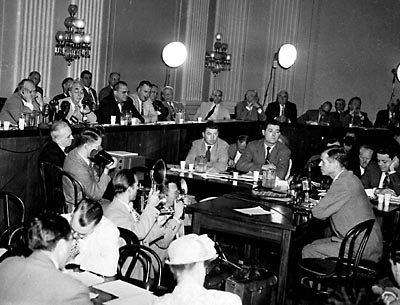 Related Links
Fifty years after the blacklisting of hundreds of artists in Hollywood and on Broadway, the list itself has become news. The Academy of Motion Picture Arts and Sciences' decision to present director Elia Kazan with a lifetime achievement award has angered many of those affected by blacklisting. Some of the surviving "Hollywood 10" who served jail time for refusing to testify against others before the committee are protesting the award, as are many others in the entertainment industry.
Kazan, director of such film classics as Gentleman's Agreement, East of Eden, and On the Waterfront, testified in 1952 before the House Un-American Activities Committee. He gave the committee the names of eight supposed communists who were subsequently blacklisted in Hollywood. Some of these artists had no choice but to write further works pseudonymously; some were forced to leave the country; still others were never able to work in theatre or film again. Kazan had been involved with leftist groups, though he ultimately rejected communism. Unlike thousands of other writers, actors, musicians, teachers, engineers, journalists and others who changed their minds about politics, however, he collaborated with HUAC.
Senator Joseph McCarthy made the phrase "Are you now, or have you ever been, a Communist?" famous and infamous during 1950's Senate hearings inspired by the House Un-American Activities Committee. Both HUAC and McCarthy were long on threat and bluster and short on civil liberties and due process. Witnesses were under strong pressure to testify and "name names" of people who might have little or no connection to the Communist Party, the stated enemy. Those who refused to testify risked jail sentences for contempt of Congress.
Some actors and writers refused to testify and resisted the hearings, blacklisting, and the witch-hunting spirit of HUAC and McCarthyism. Arthur Miller allegorically attacked them in 1953's The Crucible, which used the Salem witch trials to demonstrate the way in which broad and unproven accusations could—and did—expand into tragedy.
Among the artists to suffer for supposed affiliation with communists were actor Zero Mostel, who was blacklisted in the 1950s but was later able to make a comeback with such award winning plays and films as A Funny thing Happened on the Way to the Forum, Fiddler on the Roof, and The Producers. Director Joseph Losey, who worked with playwright Harold Pinter, fled the blacklist for England. Screenwriter Paul Jarrico used blacklisted actors in the political drama Salt of the Earth and also was forced to leave the country for twenty years. Actor Leo Penn, father of actors Sean and Chris, was blacklisted for supporting Hollywood trade unions. Unable to work as an actor, he became a director.
Conservatives and libertarians like Charlton Heston and the Ayn Rand Institute find Kazan's informing forgivable, or even commendable. Outside of the Academy of Motion Picture Art Sciences, the bulk of opinion seems to be on the other side. Individuals including Warren Beatty, Ring Lardner, Jr., Paul Jarrico, Lee Grant, Ron Howard, Morgan Freeman, Martin Sheen, and Rob Reiner, as well as groups from the Writers Guild of America to Bernard Gordon's Committee Against Silence weigh the harm Kazan did in his testimony against his directing and find him wanting.