2014 World News: Egypt
Updated February 28, 2017 |
Infoplease Staff

Court Drops Charges Against Mubarak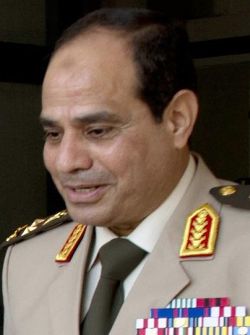 Gen. Abdel Fattah el-Sisi
Related Links
In November 2014, an Egyptian court dropped all charges against former president Hosni Mubarak for his role in the killing of hundreds of unarmed protesters in the Arab Spring protests of 2011. His security chief and several high-ranking police officials were also cleared. Thousands of people protested the verdict in Tahrir Square. With another strongman in the role as president, the ruling largely turned back the clocks on the Arab Spring protests. In June 2012, a three-judge panel sentenced Mubarak to life in prison for being an "accessory to murder" in the killing of hundreds of unarmed protesters in early 2011. The former president and his sons were acquitted of corruption.
Courts Hand Down Harsh Sentences to Protesters and Journalists
After a two-hour trial, a judge in Matay in Minya Province sentenced 529 people to death in March 2014 for the killing of a police officer during the protests against the ouster of Islamist President Mohamed Morsi in August 2013. About 400 people were sentenced in absentia. It was a stunning verdict that met with international condemnation. Fearing reprisals from the military-led government, few Islamists dared to speak out or demonstrate against the verdict. A similar verdict was rendered by the same court in April, with more than 680 people being sentenced to death in connection to the police officer's death. Those sentenced included Mohamed Badie, the spiritual leader of the Muslim Brotherhood. Most of those sentenced were either members of the Muslim Brotherhood or supporters of the group. In another ruling in April, a court in Cairo banned the April 6 movement, the liberal group that organized the rebellion that led to the ouster of Mubarak. Despite these repressive, anti-democratic actions, the U.S. announced it would resume some aid to Egypt and deliver 10 Apache helicopters to the Egyptian military.
In June 2014, an Egyptian court convicted three Al Jazeera English journalists of aiding the Muslim Brotherhood and spreading false news during their coverage of the protests that followed the ouster of President Mohamed Morsi in July 2013. Peter Greste, Mohamed Fahmy, and Baher Mohamed were arrested in December 2013. Greste and Fahmy were sentenced to seven years in prison, and Baher Mohamed received a 10-year sentence. The extra years were for possessing ammunition, which amounted to one bullet from the protests he kept as a keepsake. The prosecution did not present any evidence against the journalists, and the verdict prompted international condemnation. The White House issued a statement saying the ruling "flouts the most basic standards of media freedom and represents a blow to democratic progress in Egypt." The ruling sent a clear message to journalists and the public that the Sisi government would likely continue to crack down on freedom of the press and would not tolerate dissent.
.com/news/year-in-review/2014/egypt.html