2011 Science News: Danger in Dixie Alley
Updated February 28, 2017 |
Infoplease Staff

Tornadoes Ravaged Parts of the Southeast U.S. in April and May 2011
by Catherine McNiff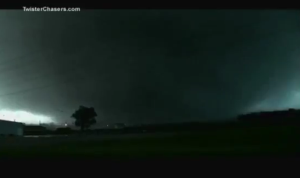 A tornado that hit Joplin, MO, in May killed 161 people. Source: NOAA
Related Links

Ghost Particles Break Cosmic Speed Limit | Gamers design new proteins that have disease-defying capabilities | Earthquake in Japan Causes Wide Destruction and a Nuclear Disaster | The final voyage of the space shuttle Atlantis marked the end of NASA's space shuttle program | Kepler Telescope Eyes New Planets



While most people have heard of Tornado Alley, much of the tornadic activity of 2011 took place in lesser known Dixie Alley-an area in the southeast U.S. including all or parts of the states of Arkansas, Mississippi, Louisiana, Alabama, Georgia, and South Carolina. The National Oceanic and Atmospheric Administration (NOAA) reported that in April 2011 Dixie Alley witnessed the most tornadoes in one month on record in the U.S.—753, and suffered 364 fatalities.

The year 2011 was the fourth deadliest tornado year since 1950 with 549 deaths, bested only by the years 1917 (551), 1936 (552), and 1925 (794). Joplin, Mo., has the dubious honor of having hosted the seventh deadliest single tornado since 1840, on May 22, 2011, and tops the list for fatalities in the past 60 years (161 dead).
Infrastructure of Dixie Alley Not Built to Withstand Twisters
With insurance payouts in the billions, each dollar represents unquantifiable hardship on the people hit by the twisters. Dixie Alley is a densely populated area that is geographically and climactically dissimilar to Tornado Alley, where tornadoes can often be tracked for long distances. In the southeast, tornadoes sometimes touch down in a surprise attack, cloaked by rolling, tree-covered hills and rain born of southern humidity. Making matters more complicated and adding to the loss of life and property is the fact that Dixie Alley is home to a high proportion of structures without foundations such as modular and mobile homes. Some victims described their homes as simply "gone."
Researchers want to get to know tornadoes better. They want to understand why they exist and how to predict their appearance. NOAA offers one possibility for the record-breaking 2011 Dixie Alley outbreak: La Niña. Last year's "cold phase of the Southern Oscillation," or La Niña, resulted in below normal global sea surface temperatures (SSTs). These tropical SSTs, in turn, could have played a role in the development of tornadoes in the southeastern U.S.
Despite the researchers' best efforts, natural disasters are, by their very nature, capricious. In an age of widespread technology and instantaneous information sharing, we are humbled by the power and destruction wielded by Mother Nature.
.com/news/year-in-review/2011/us-tornadoes.html