Cite
Thanksgiving Movies
Updated October 25, 2021 |
Beth Rowen and Jennie Wood
Our picks for the best holiday fare
Once the table's cleared and you can't face even attempting to walk off all those calories you just ingested, why not relax with some Thanksgiving-themed movies? After all, there's plenty of football on the next three days and who can stomach another showing of the Waltons' Thanksgiving Television Special?
We've selected what we think are the best turkey-day movies. If you expect your holiday to be less than idyllic, with family squabbles ready to resurface and annoying mothers eager to criticize your overcooked turkey, take heart: many of these films make even the most dysfunctional families seem like, well, the Waltons. After you read through our picks, vote for your favorite Thanksgiving movie.
The Ice Storm (1997)
It's the weekend after Thanksgiving 1973 in tiny New Canaan, Connecticut, and more than just an ice storm's a-brewing. Benjamin Hood (Kevin Kline) reels from drink to drink when he's not water-bedding his next-door-neighbor (a brilliantly brittle Sigourney Weaver). His wife (Joan Allen) immerses herself in self-help books but is quickly losing her grip over her husband's lies.
Their son (Tobey Maguire), home for the holidays, moons over a Noxzema-fresh cutie from his prep school. Meanwhile, their darling pubescent daughter gropes the neighborhood boys and plunders liquor cabinets in a desperate attempt to cope. When the wind starts to whistle the night of a spouse-swapping key party, tragedy can't be far behind.
Ang Lee triumphs in re-creating the awkward suburban angst of the early '70s, delving deeper than just dressing the film in gargantuan collars, polyester slacks suits and rainbow toe-socks (though these touches nail the look of the era). The performances are top-notch, the visuals crystalline. One of the year's stand-out releases, The Ice Storm exposes the characters' appropriately slippery hold on the times and each other.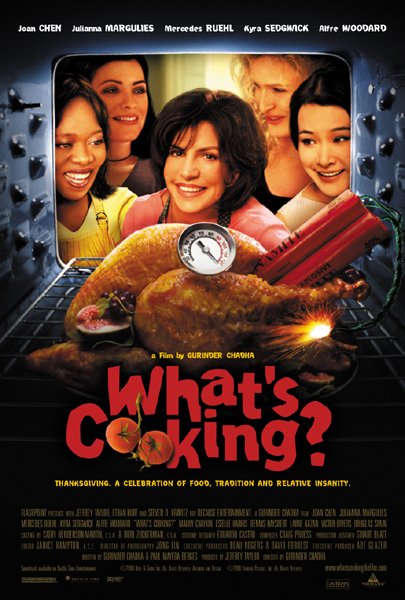 What's Cooking (2000)
Set in the diverse Fairfax district of Los Angeles, this underrated film follows four families of different ethnic backgrounds as they celebrate Thanksgiving while dealing with different kinds of conflict. Herb and Ruth Seelig cannot bring themselves to acknowledge that their daughter, Rachel, is gay, even when she brings her lover, Carla, home for the holiday. Ron and Audrey Williams go to great lengths to keep their family's secret from Ron's visiting mother. Elizabeth Avila has to host Thanksgiving for her family and deal with her son inviting her estranged, womanizing husband to dinner. Finally, the Nguyen's biggest fears come true when they find condoms in their daughter's jacket and a gun in their son's room.
Gurinder Chadha, the film's director, went on to direct the popular Bend It Like Beckham just two years later. Mercedes Ruehl, Joan Chen, and Alfre Woodard all give strong performances in What's Cooking as family matriarchs. Multiple Emmy winners Kyra Sedgwick and Julianna Margulies are memorable as Rachel and Carla, the lesbian couple dealing with a family's discomfort while trying to be true to who they are.
Pieces of April (2003)
April invites her estranged, conservative family to spend Thanksgiving dinner with her and Bobby, her African-American boyfriend. The movie toggles back in forth between April as she tries to cook the meal only to discover that her oven doesn't work and her family as they drive from suburban Pennsylvania to April's apartment on New York City's Lower East Side.
The movie features Katie Holmes as April, Oliver Platt as her father, and Derek Luke as her boyfriend. Patricia Clarkson plays April's resentful mother, a role for which she received a Best Supporting Actress Oscar Nomination. The movie is engaging and heartfelt as the dysfunctional family struggles to reconnect, but it's Clarkson's performance that puts the film high above most holiday fare.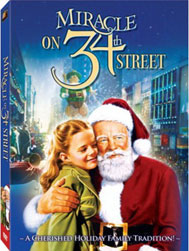 Miracle on 34th Street (1947)
We know what you're thinking: this film shouldn't be here, it belongs on the Christmas list. One of the most beloved Christmas movies of all time, Miracle on 34th Street actually begins on Thanksgiving Day with the famous Macy's parade. During the Macy's parade sequence, we are introduced to Kris Kringle, Fred Gailey, Doris Walker, and her little girl, Susan, played by nine year-old Natalie Wood. As Doris replaces Macy's drunk Santa with Kris Kringle, the movie captures how Thanksgiving kicks off the stressful holiday shopping season like no other film.
The Daytrippers (1996)
A bright, hilarious family road trip right up there with Flirting With Disaster. When Eliza (Hope Davis) finds a love letter the day after Thanksgiving that she thinks is intended for her husband, she turns to her family for advice.
Eliza's overbearing mother (Anne Meara) packs the whole Long Island family into the station wagon, and off they go to Manhattan in search of an explanation. Like fish out of water, the bickering Malones hit the town in search of the possibly philandering Louis (Stanley Tucci). Parker Posey, as Eliza's mini-skirted sister Jo, is feisty as ever, and Liev Schreiber brings an All-American freshness as Carl, Jo's aspiring novelist boyfriend. A subtle delight.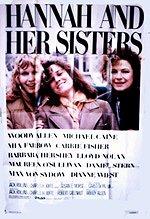 Hannah and Her Sisters (1986)
More Hollywood-like than previous Woody Allen outings, Hannah and Her Sisters is a cerebral comedy nonetheless, with three sisters (Mia Farrow, Babara Hershey, and Dianne Wiest) gathering each week to catch up and commiserate over their personal lives. Hannah (Farrow) is married to Elliot (Michael Caine), who lusts after Lee (Hershey), who lives with a brooding artist (Max Von Sydow). Dianne Wiest plays the third sister, a frustrated actress and artist, who's dating the ever-neurotic Woody Allen, Hannah's former husband. Angst-filled Thanksgiving dinners open and close the film, revealing a family nearly crippled by tension and jealousy. Oscars went to Wiest, Caine, and Allen for his screenplay.
The House of Yes (1997)
Skeletons in the closet can't begin to describe what lurks behind closed doors at the well-appointed Pascal mansion. A cozy Thanksgiving with the family brings out the darkest secrets when Marty Pascal (Josh Hamilton) brings home his fiance, Lesly (Tori Spelling). Things have never been quite right since the Pascal patriarch left home on Nov. 22, 1963?the same day John F. Kennedy was assassinated. And Marty's sociopathic twin Jackie-O (Parker Posey), who's obsessed with the former first lady, could crack at any time and erupt into a violent outburst, which explains why her mother (Genevive Bujold) has hidden the carving knives. Mrs. Pascal explains to Lesly that Jackie was holding her brother's penis when they were born, and never seemed to have kicked the habit. In an attempt to seduce Lesly, younger brother Anthony (Freddie Prinze, Jr.) lets the cat out of the bag about the incestuous relationship. This is billed as a screwball comedy?believe it or not, it works.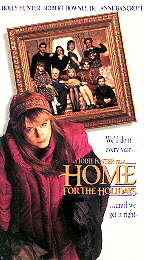 Home for the Holidays (1995)
Things aren't going well for single mother Claudia (Holly Hunter): she just lost her job as a Chicago art restorer has to go home to her dysfunctional family for Thanksgiving, while her 15-year-old daughter (Claire Danes) stays home with hopes of losing her virginity. Claudia expects the worst from her visit, and her expectations aren't that far off. Her father (Charles Durning) is rapidly falling into senility; her chain-smoking mother (Ann Bancroft) is bitter; her aunt (Geraldine Chaplin) continues to make inappropriate, off-the-cuff remarks; and her yuppie sister (Cynthia Stevenson) and brother-in-law (David Strahairn) are as annoying as ever. Her gay brother (Robert Downey, Jr.) and his guest (Dylan McDermott) save the weekend from total disaster.
Breathing Room (1996)
Couples wary of commitment beware: You may end up on opposite sides of the couch after seeing this quirky date film. In the span of their two-year relationship, David (Dan Futterman) and Kathy (Susan Floyd) have broken up five times. Kathy has pretty much had it when David, who has a big problem with commitment and can't find it in him to say "I love you," waits until the last minute to tell her that he has applied for a teaching job in Vietnam. At Thanksgiving, she proposes that they not speak to each other until Christmas and then decide their future together. They both look to friends and family for advice as the big day approaches. Sharp holiday fare.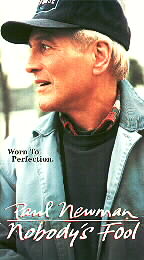 Nobody's Fool (1994)
A moody, dark film that shines with subtle performances and fully realized characters. Paul Newman plays Sully, an upstate New York construction worker who's been down on his luck, well, all his life. When his son, whom he abandoned as a baby, returns with his family for the holidays, Sully gets a chance to redeem himself. Jessica Tandy, in her penultimate role, plays Sully's landlord and former teacher who, beneath a crusty veneer, has a deep attachment to him.
The Myth of Fingerprints (1997)
Writer/director Bart Freundlich takes us behind the scenes at a wealthy, WASPy family gathering. When four adult children, Warren (Noah Wyle), Jake (Michael Vartan), Mia (Julianne Moore) and Leigh (Laurel Holloman) return to the family home for Thanksgiving after a three-year absence, a lot of pent up emotions surface. Not much action occurs over the course of the weekend?just plenty of arguments, awkwardness and angst as the family unravels. Despite the Martha Stewart-like backdrop, this is one dysfunctional family.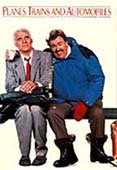 Planes, Trains and Automobiles (1987)
It's a wild and crazy ride when snobby businessman Neal Page (Steve Martin) has to sit in coach on a flight home for Thanksgiving with overweight, loud-mouth salesman Del Griffith (John Candy). Things go from bad to worse when the plane is grounded and the two share a room in a cheap motel and then a ride in, you guessed it, a train and automobile (in the form of refrigerated truck) ride. Perfectly cast, with plenty of yuks.
The War at Home (1996)
In the 1970s, there were many families similar to the Colliers, grappling with Vietnam, patriotism, and the generation gap. The War at Home resurrects those troubled times with a perspicacity that is bound to strike some chords and rekindle some resentment. When Jeremy Collier (Emilio Estevez) returns from Vietnam to his Texas home, haunted by the killing fields, he finds his girlfriend living with another man. He takes refuge in his bedroom, brooding and listening to Crosby, Stills, and Nash. He blames his father (Martin Sheen) for a lot of his problems. The elder Collier, a conservative veteran, refused to fund Jeremy's escape to Canada, and his mother (Kathy Bates) is a devoutly Baptist neat-freak. Jeremy's angst erupts on Thanksgiving into an all-out screaming, gun-waving family war. An interesting family study, especially with Estevez both directing his father, Sheen, and appearing as his son.

Scent of a Woman (1992)
Al Pacino landed an Oscar for his blustery performance as Fank Slade, an abrasive, womanizing, blind drunk who needs someone to look after him when his family goes away for the long Thanksgiving weekend. The job goes to a tormented, nave student, Charles (Chris O'Donnell), who gets himself in over his head. Unbeknownst to Charles, Slade, a former Army colonel who lost his sight in a stupid, self-inflicted accident, plans to live out his fantasies during the weekend and kill himself after his last fling. He whisks Charles off to Manhattan, lets a room at the Waldorf and lives it up. An emotional tour de force that's a tad contrived.
.com/spot/tgmovies1.html
.com/spot/tgmovies2.html
.com/spot/tgmovies3.html
.com/spot/tgmovies4.html
Trending
Here are the facts and trivia that people are buzzing about.