Cite
Mediterranean Migrant Deaths, 2015
Hundreds of refugees have died while attempting passage this year.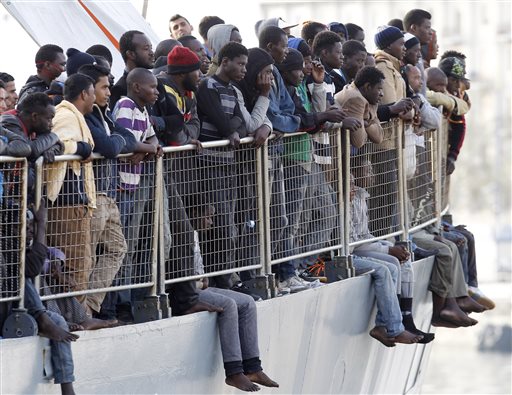 Migrants arriving at the Messina harbor, Sicily, Italy
Source: AP Photo/Antonio Calanni, File
Related Links
On Apr. 19, 2015, hundreds of migrants went missing when their ship capsized in the Mediterranean Sea. Many were trapped in the ship at the bottom of the deep sea, off the Libyan coast. According to a statement made by the United Nations High Commission for Refugees (UNHCR), the ship carried 850 people and only 28 were known to have survived. It was the deadliest incident in the Mediterranean involving migrants in a year where the numbers of refugees have continued to increase rapidly.
While the numbers of refugees have increased due to conflicts in countries like Syria and Somalia, the loss of life has also increased because migrants are taking huge risks to leave. More migrant vessel accidents continued throughout the summer, including several in August. By Aug. 28, the UNHCR reported that 2,500 migrants had died or gone missing while crossing the Mediterranean this year. Here's a look at the worst incidents in the Mediterranean so far in 2015.
| Location | Passengers | Deaths/Missing | Date |
| --- | --- | --- | --- |
| off Libya | 850 | 22/800 | April 19 |
| off Libya | unknown | 160/200+ | Aug. 27 |
| off Libya | 550 | 9/400+ | April 13 |
| off Libya | 370 | 26/200 | Aug. 5 |
| off Libya | 120 | 50/50+ | Aug. 11 |
| off Catania | 600 | 5/40 | May 5 |
| off Libya | 283 | 40+/unknown | July 23 |
| off Libya | 571 | 52/unknown | Aug. 25 |
| off Libya | 400 | 49/unknown | Aug. 15 |
| off Libya | 3500 (multiple vessels) | 10+/unknown | May 3 |