Cite
Notting Hill Carnival
Caribbean food, steel bands, calypso, and parades make the Notting Hill Carnival an international draw every August
by Liz Olson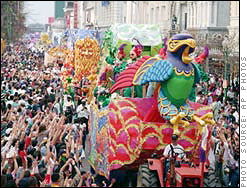 Related Links
Future Dates
24–25
August 2008
30–31
August 2009
29–30
August 2010
Since 1965, Notting Hill Carnival has been held each year on the last Sunday in August and the following Monday—the August Bank Holiday. The Carnival started as a local Caribbean festival, but has grown into a large celebration—the largest of its kind in Europe, attracting up to two million visitors from around the world. Only Rio's Carnival is bigger. Hundreds of stalls line the streets of London's Notting Hill with traditional steel drums, elaborate floats, and huge sound systems.
Caribbean immigrants, particularly from Trinidad where the Carnival tradition is strong, created the festival to bring people together during a time they were facing racism, lack of working opportunities, and dismal housing conditions.
Carnival Music
Music, both contemporary and traditional, is at the heart of the Notting Hill Carnival. Steel drums, soca, and calypso music are the traditional sounds of the festivities. When calypso and soca music originated in the Caribbean, they provided a means to express political and social commentary and humour. In recent years, reggae, R&B, funk, house, dub and much more have become prominent in the festivities as well. Local bands and international stars perform on more than 40 stages.
Two Days of Parades
Winding through over three miles of Notting Hill's streets—Great Western Road, Chepstow Road, Westbourne Grove, and Ladbroke Grove—a different parade occurs each day of the Carnival with bright, intricate costumes, imaginative floats, and dancing in the streets. The less crowded Children's Day parade occurs on Sunday, whereas the main parade takes place on Bank Holiday Monday with groups coming from as far as South America, Africa, and the Caribbean to perform.
Caribbean Food
Notting Hill Carnival is one of the only carnivals where people come solely for the delicious food. It is known for its Caribbean cuisine with jerk chicken, rice and peas, rum and punch, and other exotic flavors.
Calypso Fun Facts
Calypso originated in Trinidad in the 19th century.
The popularity of calypso grew after the abolition of slavery in 1834.
In Greek mythology, calypso means "I will conceal," named after the daughter of Atlas who lived on the island of Malta.
Calypso was used as a way of spreading news around Trinidad—many islanders considered these songs as their most reliable news source.
Did you know?
.com/uk/holidays/notting-hill-carnival.html