Cite
China | China Ends One-Child Policy, Meets with Taiwan for First Time in Sixty-Six years
Index
China Ends One-Child Policy, Meets with Taiwan for First Time in Sixty-Six years
China Ends One-Child Policy, Meets with Taiwan for First Time in Sixty-Six years
On Oct. 29 2015, China announced it would allow all married couples to have two children as a way to offset the country's aging workforce. The announcement put an end to China's unpopular one-child policy, which had been in effect for 35 years.
At the advice of scholars, China had already relaxed the one-child policy in recent years, allowing more families to have two kids when parents met certain criteria. The Oct. 2015 announcement stated that the country would "fully implement a policy of allowing each couple to have two children as an active response to an aging population." However, no details of how or when the new policy would be implemented were shared.
In early Nov. 2015, a meeting was announced between the presidents of Taiwan and China. They met for first time since 1949, when the Chinese revolution ended. The meeting between Chinese President Xi Jinping and Taiwanese President Ma Ying-jeou was seen as a test on the thawing relations between the two countries. The two leaders met during the weekend of Nov. 7-8 in Singapore, a neutral territory on good terms with both countries. It was seen by many observers as the last chance for China to push for closer ties economically and politically before Taiwan headed into presidential and legislative elections in January 2016.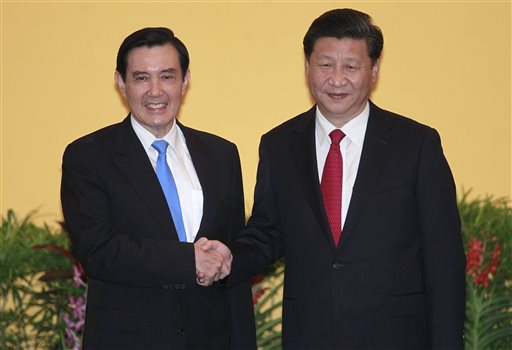 Taiwanese President Ma Ying-jeou and Chinese President Xi Jinping, Nov. 2015
Source: AP Photo/Chiang Ying-ying
According to a U.S. official at the Pentagon, China deployed missiles to a disputed island in the South China Sea in Feb. 2016. News of the deployment immediately increased tension in the region because Vietnam, the Philippines, and other countries have also claimed the island. Leaders of those countries also expressed concern over China's recent efforts to create artificial islands in the same area. The Chinese Ministry of Defense would not comment on the missile deployment.
See also Encyclopedia: China .
U.S. State Dept. Country Notes: China
National Bureau of Statistics of China: www.stats.gov.cn/english/index.htm
---