Cite
World Cup Preview: 2006
Updated February 28, 2017 |
Infoplease Staff
A third of the world will be tuned in from June 9 to July 9, 2006
by Chris Frantz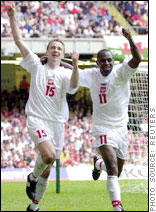 Related Links
Notable Soccer Players
U.S. First Round Schedule
Mon., June 12 USA vs. Czech Republic
Sat., June 17 USA vs. Italy
Thurs., June 22 USA vs. Ghana
Soccer's World Cup, the world's largest sporting event, is set for June 9?July 9, 2006, in Germany.
Thirty-two national teams and thousands of rabid fans from around the globe will descend upon the 12 German cities that will form the center of the sporting world for the next month.
The teams are separated into eight groups of four teams each and the teams play a round-robin format, meaning that each team in a group plays the other teams in their group once. Then the top two teams advance to the second round, and the tournament uses a single-elimination format until its conclusion.
The tournament kicks off Friday, June 9, with the opening match in Munich pitting Germany vs. Croatia, and culminates on July 9 with the Cup championship match to be played in Berlin's Olympic Stadium.
Security Tightened
In light of world events, security will be a major concern for Cup organizers and Germany. Millions of dollars have been spent in anticipation of possible terrorist attacks, but also to help identify and neutralize some of the most infamous and hell-raising soccer hooligans that are expected to arrive. German police have a database of 6,800 known hooligans which will be monitored in the lead-up to the World Cup and individuals will be brought into custody before games if security forces believe they represent a danger.
Security is going ultra-high-tech for these games. The tickets to the events have an embedded chip containing personal identification information, special cameras will scan biometric facial features of suspects, and 30,000 police officers will carry optical fingerprint devices.
U.S.A. All the Way?
After their last place finish in 1998, the U.S. team, coached by Bruce Arena, did surprisingly well in 2002, making it to the quarterfinals where they lost to Germany. No disgrace there?Germany went on to the World Cup final match where they ultimately lost to Brazil. And Arena returns as head coach in 2006, bringing some 2002 veterans?Kasey Kelley, Gregg Berhalter, Pablo Mastroeni, Eddie Pope, DeMarcus Beasley, Landon Donovan, Claudio Reyna, and Josh Wolff.

The U.S. team appears to have at least a shot at the title in 2006. Prior to the tournament opening, they were fifth in the FIFA rankings, but other Group E teams include the Czech Republic, ranked second, and Italy, a strong 13 on the FIFA list.
The second place team from Group E plays the first place team from Group F, otherwise known as Brazil, in the second round. And Brazil will be one tough nut to crack. A trip to the second round and a loss to Brazil would still be looked at as a successful trip for the squad.
So Who Will Win?
With top-notch players Ronaldo, Ronaldinho, and Adriano onboard, number one ranked Brazil will be the team to beat. Along with Brazil, the list of top Cup contenders includes Argentina, Germany and England. And number five in the FIFA world ranking is nothing to sneeze at, so the U.S. just might be in the thick of things in 2006.
July 5
Semifinals
Portugal 0, France 1
July 4
Semifinals
Germany 0, Italy 2 (after extra time)
July 1
Quarterfinals
England 0, Portugal 0 (Portugal, 3-1 on penalties)
Brazil 0, France 1
June 30
Quarterfinals
Germany 1, Argentina 1 (Germany, 4-2 on penalties)
Italy 3, Ukraine 0
June 27
Second Round
Brazil 3, Ghana 0
Spain 1, France 3
June 26
Second Round
Italy 1, Australia 0
Switzerland 3, Ukraine 0 (shootout)
June 25
2nd Round Match 3
England 1, Ecuador 0

2nd Round Match 4
Portugal 1, Holland 0
June 24
2nd Round Match 1
Germany 2, Sweden 0

2nd Round Match 2
Argentina 2, Mexico 1
June 23
Group H
Ukraine 1, Tunisia 0
Saudi Arabia 0, Spain 1

Group G
Switzerland 2, South Korea 0
Togo 0, France 2
June 22
Group F
Japan 1, Brazil 4
Croatia 2, Australia 2

Group E
Czech Republic 0, Italy 2
Ghana 2, United States 1
June 21
Group D
Portugal 2, Mexico 1
Iran 1, Angola 1

Group C
Ivory Coast 3, Serbia & Montenegro 2
Holland 0, Argentina 0
June 20
Group A
Ecuador 0, Germany 3
Costa Rica 1, Poland 2

Group B
Paraguay 2, Trinidad & Tobago 0
Sweden 2, England 2

June 19
Group G
Togo 0, Switzerland 2

Group H
Saudi Arabia 0, Ukraine 4
Spain 3, Tunisia 1
June 18
Group F
Japan 0, Croatia 0
Brazil 2, Australia 0

Group G
France 1, South Korea 1
June 17
Group D
Portugal 2, Iran 0

Group E
Czech Republic 0, Ghana 2
Italy 1, United States 1
June 16
Group C
Argentina 6, Serbia & Montenegto 0
Holland 2, Ivory Coast 1

Group D
Mexico 0, Angola 0
June 15
Group A
Ecuador 3, Costa Rica 0

Group B
England 2, Trinidad & Tobago 0
Sweden 1, Paraguay 0
June 14
Group H
Spain 4, Ukraine 0
Tunisia 2, Saudi Arabia 2

Group A
Germany 1, Poland 0
June 13
Group G
South Korea 2, Togo 1
France 0, Switzerland 0

Group F
Brazil 1, Croatia 0
July 12
Group F
Australia 3, Japan 1

Group E
United States 0, Czech Republic 3
Italy 2, Ghana 0
June 11
Group C
Serbia & Montenegro 0, Holland 1

Group D
Mexico 3, Iran 1
Angola 0, Portugal 1
June 10
Group B
England 1, Paraguay 0
Trinidad & Tobago 0, Sweden 0

Group C
Argentina 2, Ivory Coast 1
June 9
Group A
Germany 4, Costa Rica 2
Poland 0, Ecuador 2
Top
Teams by Group

Group A
Costa Rica
Ecuador
Germany
Poland
Group B
England
Paraguay
Sweden
Trinidad & Tobago
Group C
Argentina
Ivory Coast
Netherlands
Serbia & Montenegro
Group D
Angola
Iran
Mexico
Portugal
Group E
Czech Republic
Ghana
Italy
United States
Group F
Australia
Brazil
Croatia
Japan
Group G
France
South Korea
Switzerland
Togo
Group H
Saudi Arabia
Spain
Tunisia
Ukraine
Top
U.S. Roster

Number
Name
Position
Hometown
2
Chris Albright
D
Philadelphia, Pa.
17
DaMarcus Beasley
M
Ft. Wayne, Ind.
12
Gregg Berhalter
D
Tenafly, N.J.
3
Carlos Bocanegro
D
Alto Loma, Calif.
6
Steve Cherundolo
D
San Diego, Calif.
11
Brian Ching
F
Haleiwa, Hawaii
13
Jimmy Conrad
D
Temple City, Calif.
15
Bobby Convey
M
Philadelphia, Pa.
8
Clint Dempsey
M
Nacogdoches, Texas
21
Landon Donovan
M
Redlands, Calif.
19
Marcus Hahnemann
GK
Seattle, Wash.
1
Tim Howard
GK
North Brunswick, N.J.
9
Eddie Johnson
F
Palm Coast, Fla.
18
Kasey Keller
GK
Lacey, Wash.
7
Eddie Lewis
D
Cerritos, Calif.
4
Pablo Mastroeni
M
Phoenix, Ariz.
20
Brian McBride
F
Arlington Heights, Ill.
5
John O'Brien
M
Playa del Rey, Calif.
14
Ben Olsen
M
Middletown, Pa.
22
Oguchi Onyewu
D
Olney, Md.
23
Eddie Pope
D
High Point, N.C.
10
Claudio Reyna
M
Springfield, N.J.
16
Josh Wolff
F
Stone Mountain, Ga.
Top
.com/spot/world-cup-soccer-2006.html
Trending
Here are the facts and trivia that people are buzzing about.