Cite
The Wage Gap in Pro Sports: Cashing In On Fame
Updated February 28, 2017 |
Infoplease Staff
by John Gettings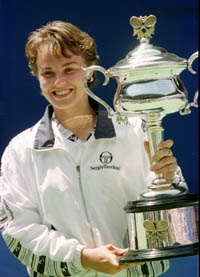 Related Links
According to Forbes magazine, the top 40 highest-paid athletes pulled in $360 million in salary and winnings in 1998 plus an additional $281 million in endorsements. The only woman to crack the list was Martina Hingis ? at number 36. The 18-year-old tennis star pulled in $10.1 million last year, of which less than one-third came from endorsements.
Fortunately for Hingis, she competes on the WTA Tour, which is becoming a hot commodity for advertisers and an example of the effect money can have on sports. A combination of young stars and great competition has helped WTA stars close in on popular men's tennis endorsees like Andre Agassi and Pete Sampras.
Hingis leads a small collection of female athletes who are signing some of the most lucrative endorsement contracts in women's sports history.
In May 1998, Street & Smith's Sports Business Journal ranked the top 25 female athletes by their estimated endorsement revenue and concluded that three female tennis stars ? Monica Seles ($6 million a year), Steffi Graf ($5 million), and Hingis ($3 million) ? are generating the most interest from companies.
As one might expect, individual women's sports like golf and figure skating were well represented on the list. But rising women's team sports like basketball and soccer have representatives as well.
Basketball stars like Jennifer Azzi, who has deals with Ann Taylor, Apple computers, BMW and Reebok; and Lisa Leslie, who's been signed by heavyweights like Nike, Gatorade, GM and Pepsi; earned around $1 million in endorsements in 1998.
By comparison, Grant Hill from the NBA's Detroit Pistons signed a seven-year $80 million deal with sneaker-maker Fila in 1997. Hill added that deal to a pile that already included giants like Sprite and McDonald's.
Regardless, the marketing success of players like Azzi and Leslie is a sign that companies are beginning to make an effort to market female athletes from professional sports not commonly associated with women.
This was clearly seen in all the hoopla that surrounded the U.S. Women's Soccer Team's success at the 1999 World Cup. The tournament's final game boasted the largest attendance ever for a women-only sporting event and it was broadcast live on a major network. More importantly, the tournament's big-time sponsors like adidas, Bud Light, Coca-Cola, and others went away smiling from the experience. So much so that plans are moving quickly to form a professional women's soccer league.
The U.S. national team's immediate jump to celebrity status is a sign of better things to come. As a result, American soccer stars like Mia Hamm, who also broke the $1 million endorsement barrier in 1998, and teammate Brandi Chastain, should reep the benefits.
In the end, higher salaries, better tournament pay-outs, and more lucrative endorsement deals for America's working women athletes may usher in the beginning of a new era of fairness in amateur and professional sports.


Back to the Beginning
---
.com/spot/sptwagegap3.html
Trending
Here are the facts and trivia that people are buzzing about.