Cite
Vacation Stories from our Readers
Updated February 28, 2017 |
Infoplease Staff
Unusual Vacation Stories
Memorable vacation experiences submitted by our readers
Well It Went To A Good Home
We left Wyoming where we had bought a piece of blue leather that I was going to paint on. We were returning home to Illinois when we stopped in Nebraska at rest stop, since the kids and dogs needed a walk. I cleaned out all the usual garbage from the back of the van and threw it into the garbage can at the rest stop. After we left and had driven away, I asked the kids to hand up the leather so I could look at it. The kids said it wasn't there. My husband just grinned a sad grin and turned around to drive back to the rest stop, 60 miles back. We turned and had driven about 40 miles when we saw a hobo type walking the divided highway with a blue coat-like shawl. We got to the rest stop and then realized the guy had found the leather and had used it for a cape. He was a very fine, proud man as we passed him again. We knew he was happier for his great find. Although we were a bit sad at having lost the leather, we were glad it found a good home. The kids remember this story each time we leave home for a trip and wonder what we will lose this time.

Kris
New Lenox, Ill.
Trekking Through Tasmania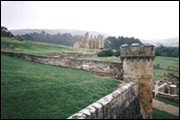 The most memorable vacation I ever took was to Tasmania, on the southern tip of Australia. I was living in Sydney at the time, and my friends and I didn?t have money to get to the Great Barrier Reef, where our luckier classmates were headed. Traveling to Tasmania was like a road trip out of some bad movie: we took every form of transportation: subway to bus, train, rental car, and even an overnight ferry (choppy, choppy waters) across the Bass Straight. Tasmania itself is like something out of a classic horror movie: small, bare, gnarled trees; endless stretches of road broken only by wombats and circling vultures; ruins of old penal colonies (where Australian convicts originally sent their bad seeds); and a blue, blue shoreline that seems both endless and foreboding. An altogether harsh, eerie, and beautiful place.

Ricco Siasoco
Barbed Wire
One of the most truly unique places I have visited is The Historical Museum Of Barbed Wire and Fencing Tools, otherwise called the Devil's Rope Museum (for obvious reasons), in McLean, Texas. The museum is located in a town that looks like it was abandoned in the 1940's, and is really no more than a collection of white buildings amongst tumbleweed and dustclouds. Once I was inside, it was pretty groovy. They have bales, balls, yards (seemingly pasture-fuls) of barbed wire of every kind, and the history of how it was invented and used for farming and during wartime. The wartime exhibit is particularly neat! They have several different examples of art and other stuff created by barb wire enthusiasts. The museum is located off Old Historic Route 66, and is one of the campiest places you will ever go.

Brigit Schroeder
Iguass Falls
Nestled in the jungle at the borders of Brazil, Argentina, and Paraguay, Iguass Falls is certainly off the beaten track, for Americans at least. But when I was at the falls, I met an American man, who asked if he could travel with me. When told me his name, I burst out laughing. We had the same name. We were from opposite parts of the United States, and here we were, meeting in the remote South American jungle. We did travel together for a while in Argentina and Chile. Whenever we had to sign our names, hotel clerks and tour operators invariably commented that we must be cousins. They were always surprised when we explained that we were total strangers who had just met at Iguass!

David Johnson
In Search of Mars (Bars)

On the train ride up to the Scottish Highlands, my friends and I met a man who said we must have a deep-fried Mars bar when we got to Scotland. So in the tiny town of Kylekin on the Isle of Skye (a gorgeous vacation spot), the three of us set off to find deep-fried Mars bars. We asked the cashier at the restaurant in Kylekin where we could find them, and he told us to go to the Chip Store. Which chip store? The Chip Store. And how were we to get there? He said to take the bus and ask the driver to bring us there. We made it to The Chip Store and the woman there found a few candy bars which she battered up and deep-fried. They tasted like pure fat, between the oil and the fried batter and the actual candy bar inside, which at this point was just warm chocolate and caramel melted inside the crispy shell. They were delicious, but when we were offered a second one, we unanimously declined.

Amanda Kudler
Are You Sear-ious?
People seem to take for granted what they have grown up with, as I discovered while visiting my uncle who lives in Ponce, Puerto Rico. I wanted to see old Spanish charm so he showed me the art museum, the historic firehouse, and a restored Indian village, all of which I enjoyed. But one "landmark" was not so interesting. My uncle insisted on showing off the large Sears department store. "Yes," I admitted while walking the aisles, "it is very modern, the air conditioning is quite strong, and they do have an array of merchandise, but I did not need to come to Puerto Rico to go to Sears, I could have gone to the mall (in the U.S.) just as well." "Don't be difficult," my uncle replied.

David Johnson
Spring Break in Nicaragua
My most unusual vacation experience was spring break when I went to Nicaragua with the youth group from my church. It was a working vacation. We had sent the materials ahead of time and spent ten days building houses for the people who had lost everything in the hurricane the summer before. Forty teenagers without TV or AC. We had the most incredible time and left with a sense of accomplishment. No time for foolishness.

Nathan Marlow
Sarasota, Fla.
My Father's Return to the Land of His Birth
My most unusual vacation experience was my trip to Ireland in 1962.It was my father's first trip to his birthplace since he left in 1927. He, as well as his two sisters and one brother saw each other for the first time in 35 years. The emotion expressed is something I will never forget. The wailing cries of his sisters still ring in my ears.

Mary Regan
Levittown, Pa.
Finding Our Roots
My most unusual vacation experience was to Ireland [years ago]. We were trying to find our "Coulter" ancestors and checked every graveyard we could find all over southern Ireland. We worked our way north to County Antrim and were advised to check out Kilkeel, a working fishing harbor on the northeastern shore. We no sooner arrived in town when we saw Coulter Construction, Coulter Windows, Coulter Newagents! The Kilkeel Coulter family immediately adopted us. We're not sure we're "blood" but we sure are "cousins forever!"

Linda Coulter Cinkay
Hamilton Square, N.J.
Email the Infoplease Editors about your most unusual vacation today!
Mail editors[at]infoplease.com.
Trending
Here are the facts and trivia that people are buzzing about.