Cite
Thanksgiving Movies
Our picks for the best holiday fare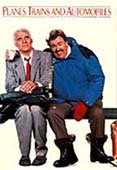 Planes, Trains and Automobiles (1987)
It's a wild and crazy ride when snobby businessman Neal Page (Steve Martin) has to sit in coach on a flight home for Thanksgiving with overweight, loud-mouth salesman Del Griffith (John Candy). Things go from bad to worse when the plane is grounded and the two share a room in a cheap motel and then a ride in, you guessed it, a train and automobile (in the form of refrigerated truck) ride. Perfectly cast, with plenty of yuks.
The War at Home (1996)
In the 1970s, there were many families similar to the Colliers, grappling with Vietnam, patriotism, and the generation gap. The War at Home resurrects those troubled times with a perspicacity that is bound to strike some chords and rekindle some resentment. When Jeremy Collier (Emilio Estevez) returns from Vietnam to his Texas home, haunted by the killing fields, he finds his girlfriend living with another man. He takes refuge in his bedroom, brooding and listening to Crosby, Stills, and Nash. He blames his father (Martin Sheen) for a lot of his problems. The elder Collier, a conservative veteran, refused to fund Jeremy's escape to Canada, and his mother (Kathy Bates) is a devoutly Baptist neat-freak. Jeremy's angst erupts on Thanksgiving into an all-out screaming, gun-waving family war. An interesting family study, especially with Estevez both directing his father, Sheen, and appearing as his son.

Scent of a Woman (1992)
Al Pacino landed an Oscar for his blustery performance as Fank Slade, an abrasive, womanizing, blind drunk who needs someone to look after him when his family goes away for the long Thanksgiving weekend. The job goes to a tormented, naïve student, Charles (Chris O'Donnell), who gets himself in over his head. Unbeknownst to Charles, Slade, a former Army colonel who lost his sight in a stupid, self-inflicted accident, plans to live out his fantasies during the weekend and kill himself after his last fling. He whisks Charles off to Manhattan, lets a room at the Waldorf and lives it up. An emotional tour de force that's a tad contrived.
Did you know?