Cite
Thanksgiving Movies
Our picks for the best holiday fare
Breathing Room (1996)
Couples wary of commitment beware: You may end up on opposite sides of the couch after seeing this quirky date film. In the span of their two-year relationship, David (Dan Futterman) and Kathy (Susan Floyd) have broken up five times. Kathy has pretty much had it when David, who has a big problem with commitment and can't find it in him to say "I love you," waits until the last minute to tell her that he has applied for a teaching job in Vietnam. At Thanksgiving, she proposes that they not speak to each other until Christmas and then decide their future together. They both look to friends and family for advice as the big day approaches. Sharp holiday fare.
The Myth of Fingerprints (1997)
Writer/director Bart Freundlich takes us behind the scenes at a wealthy, WASPy family gathering. When four adult children, Warren (Noah Wyle), Jake (Michael Vartan), Mia (Julianne Moore) and Leigh (Laurel Holloman) return to the family home for Thanksgiving after a three-year absence, a lot of pent up emotions surface. Not much action occurs over the course of the weekend—just plenty of arguments, awkwardness and angst as the family unravels. Despite the Martha Stewart-like backdrop, this is one dysfunctional family.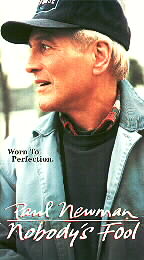 Nobody's Fool (1994)
A moody, dark film that shines with subtle performances and fully realized characters. Paul Newman plays Sully, an upstate New York construction worker who's been down on his luck, well, all his life. When his son, whom he abandoned as a baby, returns with his family for the holidays, Sully gets a chance to redeem himself. Jessica Tandy, in her penultimate role, plays Sully's landlord and former teacher who, beneath a crusty veneer, has a deep attachment to him.
Did you know?