Cite
Media Lolitas
Teen queens sell sex, pop music, and lots and lots of magazines
| | |
| --- | --- |
| by Ricco Villanueva Siasoco | |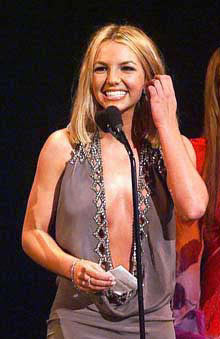 Famous Lolitas (past and present)
Music
Sports
TV
Film
Lolita Poll
Do you think Britney Spears is a bad role model for kids?
Related Links
Nabokov would have turned over in his grave. His infamous title character, whose name has joined the English vernacular to mean a pre-adolescent, sexually precocious girl, has spawned a whole new category—the Media Lolita.
Buxom young babes have always graced the covers of entertainment mags like Rolling Stone and Playboy, but the cover of Forbes? When the magazine featured a cover article on Britney Spears in March, the widespread power of the sultry young nymphette could officially be called a trend.
Female Offenders
There are Lolitas, and then there are those who just play them on TV and film. Where only supermodels were once promoted as sexpots and covergirls, female musicians and athletes have joined the ranks of many an adolescent fantasy.
Pop music may have the worst offenders. Britney Spears, Lil' Kim, and Christina Aguilera promote the image of the young temptress in their racy music videos, scantily-clad photographs, and brash lyrics. 18-year-old Spears caused a sensation with the skimpy t-shirt and bare midriff she revealed in the video for her hit song, "Baby One More Time."
Spears herself defends her choice of outfit. "I only wear these crop tops because other clothes would make me sweat when I dance," she told Germany's InStyle magazine.
The sports industry has created just as many lusty images. During last year's World Cup soccer final, Brandi Chastain created a maelstrom when she took off her jersey to celebrate the team's 5-4 victory. Tennis pro Anna Kournikova was recently featured in a multi-page spread in Sports Illustrated, posed in a bed with lots of pouty glances. Interestingly enough, most of the glamour shots had not a tennis ball or racket in sight.
Famous Screen Vixens
Who can forget Jodie Foster's crass-mouthed young prostitute in Martin Scorsese's 1976 classic Taxi Driver? Or a rosy-cheeked Elizabeth Taylor in National Velvet, when she was only 12 years old? Both actresses caused a stir when their performances revealed a sultriness beyond their adolescent years.
Recently, Anna Paquin delivered an eye-grabbing performance as an adolescent temptress in the movie adaptation of David Rabe's LA-saturated play Hurlyburly. Her wild-child vagabond nearly stole the gritty movie from male co-star Sean Penn. And Paquin is not alone: The Wonder Boys' Katie Holmes, Stealing Beauty's Liv Tyler, and Cruel Intentions' Sarah Michelle Gellar have all raised the bar for young females seducing their older male counterparts. Even bad girl Shannen Doherty had made a name for herself by playing bitchy roles like Brenda on the imminently successful Fox TV show, Beverly Hills 90210.
Youth Market
Maybe it was The Spice Girls (or their publicists) who did it best: zeroed in on the pre-teen girls' market. Though the popular 90's girl band claimed to deliver a feminist message, their arguably racy costumes and tough, sexy image was the group's trademark. (Did The Bangles ever streak their hair or wear fishnet stockings?)
David Plotz, in the online magazine Slate, captured the Spice Girls' tricky marketing. "The high point—or, depending on your view, the low point—of Spice promotion is the group's Pepsi deal. The Spice Girls wrote a commercial jingle for Pepsi's "Generation Next" ad campaign. Then they included the jingle on Spiceworld. You hear the jingle, you buy the album. You buy the album, you hear the jingle...This is what businesspeople call synergy and musicians call prostitution. Whatever it is, it pays. According to some estimates, the five girls stand to earn $300 million in the next year."
And Spears' triumphant cover photo in Forbes not only showed her sexy navel, but accompanied the headline, "The New Stars of Money." Maybe the old adage proves true: today's media lolitas know that sex sells.
---