Cite
No Ordinary Socialist
Updated February 28, 2017 |
Infoplease Staff
Chile's recent election of President Ricardo Lagos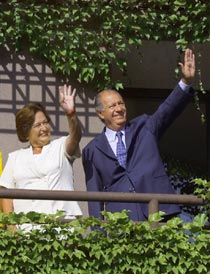 Related Links
Chile's leftists danced in the streets when they learned that Ricardo Lagos had been elected the country's first socialist president since the violent overthrow of President Salvador Allende Gossens. But it's not likely they will see the country shift radically to the left.
Courting Women, Moderate Conservatives
Lagos is a moderate socialist who ran?and will govern?in a coalition with the centrist Christian Democrats. During the campaign, Lagos moved to the center, away from traditional socialists, in an attempt to court women voters and moderate conservatives. In his victory speech, Lagos vowed to work with the right to unify the fractious country.
"I will be the president for all Chileans," he said. "I want to resolve the pains that still remain from the century that has just ended. There is space here for everyone."
Narrow Defeat of Lavn
On January 16, Lagos defeated Joaqun Lavn by just more than two percentage points, 51.32% to 48.68%. Lavn, who once worked as an aide to General Augusto Pinochet, the dictator who overthrew Allende, ran for the right-wing Alliance for Chile coalition.
In conceding defeat, Lavn said, "I will always be with Ricardo Lagos and with Chile. I am at his disposal to help unify Chile."
In their campaigns, both candidates promised to look forward, create jobs, modernize the government and its services, and improve the country's health-care system.
The election followed only days after Britain ruled that Pinochet was not fit to be extradited to Spain to face trial for genocide, torture, and kidnapping. Instead, Pinochet will likely return to Chile, where he may face trial. Both candidates avoided the volatile issue during the campaign.
Economist and Lawyer
Lagos, 61, is an economist and lawyer. He studied law at the University of Chile and received a doctorate in economics from Duke University in the 1960s. He returned to Chile during Allende's presidency and served as secretary general of the University of Chile. An acolyte of Allende, Lagos was set to become Chile's ambassador to Moscow when the president perished in the 1973 coup.
After the coup, Lagos went into exile in the U.S., becoming a visiting professor at the University of North Carolina until 1975. From 1976 to 1984 he worked as an economist for the United Nations.
Pointed Stand on Pinochet
Lagos established himself as a party leader and politician in a 1986 television interview when he defiantly pointed to the camera and said the country had enough of Pinochet's violent repression. Pinochet was defeated in 1989 by Patricio Aylwin, a Christian Democrat.
In the 1990s Lagos served under President Aylwin and his successor, President Eduardo Frei, a centrist Christian Democrat, as education minister and public works minister.
He is widely expected to continue the privatization that has stimulated steady economic growth and to woo foreign investors to boost the stock market?clear signs that Lagos is a pragmatic socialist.
---
Trending
Here are the facts and trivia that people are buzzing about.