History: Relay, Summer Games
Updated February 28, 2017 |
Infoplease Staff
by Mark Hughes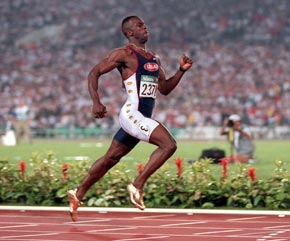 Related Links
A New Tradition
The modern use of the Olympic Flame began in 1936. It coincided with the advent of a long relay of runners carrying torches to bring the flame from Olympia to the site of the games. Once there, the torch is used to light a cauldron that remains lit until it is extinguished in the Closing Ceremony.
1936 Berlin Games
The first such relay took place for the 1936 Berlin Games. Some 3,330 runners brought the flame through Greece, Bulgaria, Yugoslavia, Hungary, Austria, Czechoslovakia, and Germany. Similar relays have taken place for every Summer Game since.
Their Legs Must Be Tired
The 2004 relay was the first to start and end in Greece; it was also the first to visit every continent, crossing 34 cities in 27 countries before returning to Greece. The flame travels by plane between cities, and is relayed by foot within cities.
Honorable Bearers
Being a torch-bearer is considered an honor, one given to local residents with a record of community service, in addition to athletes and celebrities.
We Have the Technology…
The torches generally burn a gas fuel, and are specially designed to resist the effects of wind and rain.
.com/sports/olympics/torch-relay-summer.html