Cite
Goodbye Barkley
NBA star Charles Barkley calls it quits.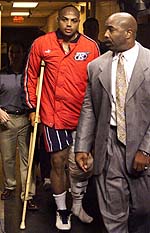 "I guess the big fella in the sky wanted me to finish right where I started,"

— Charles Barkley, on his last game in Philadelphia
Charles Barkley, who had previously announced in October that this season would be his last, was forced to hang up his Houston Rockets hi-tops a little earlier than expected when he ruptured his left quadriceps tendon in Wednesday's game in Philadelphia.
"Chubby" Kid with Potential
Ironically, Philadelphia is where the 36-year-old Barkley started his NBA career. Drafted fifth overall in 1984, he played eight seasons with the 76ers from 1984–1992 and transformed himself from the "chubby" kid with tons of potential to one of the NBA's 50 Greatest Players.
Barkley is a nine-time NBA all-star and a member of two gold medal-winning U.S.A. Olympic teams. He ranks 13th overall on the all-time NBA points list and grabbed 11.7 rebounds per game over his career. He led the NBA in rebounding in 1987 with 14.6 per game— a tremendous feat for someone who is listed at 6'6" (small by NBA standards) and in reality is closer to 6'4".
In 1992, he left the 76ers for the Phoenix Suns after a messy feud with Philadelphia management. He was named league MVP and led the Suns to the NBA Finals in his first season with the team, only to be defeated by Michael Jordan and the Chicago Bulls. He was traded to Houston in 1996 but never made it back to the Finals. Paradoxically he is considered one of the best players never to win an NBA championship.
Fines and Regrets
Never one to hold his tongue, Barkley was named to the 1999 All-NBA Interview First Team but paid his share of fines for his usually controversial opinions and actions. Most notably, he tried to spit at a heckler as he was leaving the court but hit an eight-year-old girl instead (something he obviously still regrets). He once threw a man through a restaurant window in Orlando (something he still doesn't regret). Just this year, Barkley fought with Los Angeles' Shaquille O'Neal and in a separate incident, was fined $20,000 last week for his comments against referee Mike Mathis.
While "Sir Charles" was essentially robbed of his farewell tour around the NBA, his game and personality will never be forgotten. He's an obvious shoo-in for the NBA Hall of Fame. The crowd at Philadelphia's First Union Arena gave him a rousing standing ovation before his final game and another when he came back to the bench on crutches. "I guess the big fella in the sky wanted me to finish right where I started," said Barkley. "Well, it's been fun."
Did you know?