Goodbye, Napster
Updated February 28, 2017 |
Infoplease Staff
Appeals court rules against Internet music site Napster
This article was posted on July 28, 2000.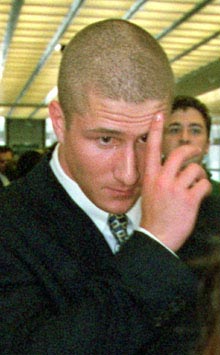 Add it up and the record company has spent about $4.4 million [producing a record]. So their profit is $6.6 million; the band may as well be working at a 7-Eleven.
—Courtney Love to the Digital Hollywood entertainment conference
Related Links
A federal court has ordered the popular Internet music site, Napster, to stop distributing copyrighted music. The ruling places Napster's future in doubt and upholds the July 2000 decision of a U.S. district court. For six months Napster has been operating under a stay of that earlier ruling.
In their February 12, 2001 decision, the 9th U.S. Circuit Court of Appeals in San Francisco found that the company is violating copyright laws. "Napster has knowledge, both actual and constructive, of direct infringement," said the ruling. "Napster users infringe at least two of the copyright holders exclusive rights: the rights of reproduction and distribution." By making songs available, Napster has hurt the sales, the court also stated.
Napster Could Appeal
Napster could appeal to the U.S. Supreme Court. However, the high court might not accept the case and even if it did, it would be months to receive a decision.
The Napster web site noted that the ruling could put the company out of business. "We will pursue every avenue in the courts and the Congress to keep Napster operating," the statement said.
Record Officials Rejoice
The ruling is a victory for the $14 billion a year U.S. sound recording industry, which has been increasingly concerned about the availability of popular music on the Internet. By allowing music to be downloaded from its web site, the industry charged Napster was circumventing copyright laws.
"This decision helps to pave the way for the future of online music. It sends a strong message to others that they cannot build a business based others' copyrighted works without permission. The principles of copyright are alive and well in cyberspace and must co-exist with innovation," said Hillary Rosen, president of the Recording Industry Association of America, RIAA, which sued Napster.
In a statement posted on the RIAA website, Rosen also thanked popular rock musicians Metallica and Dr. Dre, both of whom have sued Napster separately. "Their passion and conviction contributed to this victory," she said.
$300 Million Loss
The RIAA has estimated that the music industry lost more than $300 million in sales in 1999 because of song-swapping at Napster. However, ABC News has reported that a study indicates that those who patronize music sites on the Internet are 45 percent more likely to purchase music than those who do not visit such sites.
The popularity of Napster, however, indicates the huge demand for music on the internet. Some press reports speculate that Metallica and other bands could be hurt by angry fans.
19-Year-Old Entrepreneur
Napster's MusicShare application was developed by 19-year-old Shawn Fanning when he was a freshman at Boston's Northeastern University. Tired of listening to his roommates complain about the difficulty of finding MP3s—and looking for a challenge not found in his computer science classes—Fanning soon developed the notorious Napster application.
Only months after he began working on his program, Fanning was approached by venture capitalists like Eileen Richardson (the company's current CEO) and co-founded the San Mateo-based Napster. The company is less than a year old.
Artists Cite Copyright Infringement
Metallica filed its lawsuit against Napster in 2000, charging copyright infringement and racketeering. According to Metallica drummer Lars Ulrich, "We're suing Napster for one reason and one reason only—they exist to pirate music, nothing more, nothing less." Ulrich and Metallica's lawyer hand delivered to Napster a list of over 350,000 Napster users who they claim illegally downloaded a Metallica master recording. Napster responded by terminating some 317,377 accounts found on the list.
Producer and artist Dr. Dre sued Napster the following week. Dr. Dre cited contributory infringement of copyrights, vicarious infringement of copyrights, and unlawful use of digital audio interface device. He released a simple, to the point statement to the press, "I don't like people stealing my music."
---
.com/spot/napster1.html
.com/spot/napster2.html