12 Steps to a New Year
Updated February 28, 2017 |
Infoplease Staff
Many 12-step programs offer help for smokers, spenders, and others with serious addictions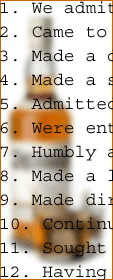 For more 12 step information
Alcoholics Anonymous
Debtors Anonymous
Related Links
Often New Year's resolutions, or other self-improvement plans, involve more than simple "to do" lists. Sometimes people want to make serious changes to their lives. They may want to give up a bad habit, such as smoking, or seek to manage behaviors that have gotten out of control, such as spending.
Such changes often require than simple willpower. They often lead people to seek outside help, such as provided by one of the many so-called 12-step programs.
Based on Alcoholics Anonymous
Founded in 1935, Alcoholics Anonymous (AA) was the first program to use the 12 steps to help people overcome addiction to alcohol. There are 99,000 local chapters in the U.S. today and two million members worldwide.
Over the years, literally hundreds of programs using the AA model have been designed to help people with problems such as drug addiction, gambling, overspending, or sexual compulsivity. These programs usually survive on voluntary donations and are free to all who need them.
Facing the Situation
AA entails regular attendance at meetings, where alcoholics discuss their problems and seek support from others. They try to apply the 12 steps to their own lives.
The first step is to admit that one has a problem (in this case drinking) that has made life unmanageable.
Help From Peers
Typically, new members acquire a sponsor, usually another AA member, who is familiar with the program and available to talk on a regular basis. The sponsor helps the AA member through situations that may trigger a desire to drink.
A sponsor helps his or her sponsee to work through the 12 steps, a potentially lengthy process that involves considerable self-examination and often results in the making of other life changes to prevent a return to drinking.
A person often sponsors someone else while working on the last steps of the program, when a willingness to help others can reinforce one's own progress.