Cite
Infoplease's Recommended Books to Read During the Summer
From One Hundred Years of Solitude to The Omnivore's Dilemma
by Dana Quigley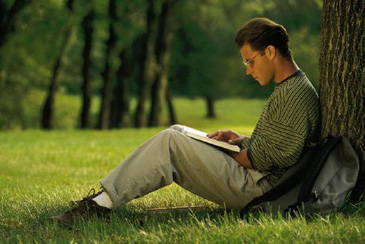 Related Links
Summer brings not only warm weather, but also ample opportunity to curl up with a good book. The next time you're heading to the beach, pack one of Infoplease's recommended summer books. These titles will help keep your mind off the heat during the dog days of summer.
The following purely subjective list includes new and old books that span different genres, countries, and areas of interest.
One Hundred Years of Solitude
by Gabriel García Márquez (1967, translated into English in 1970 by Gregory Rabassa)
Universal themes abound in this classic novel by Nobel Prize-winning author Gabriel García Márquez. Márquez parallels the complex history of Latin America in the 19th and 20th centuries with the love, loss, and complicated relationships that surround the Buendía family in the fictional town of Macondo. Márquez mixes fact with fantasy, and magnificently recreates the perils and pleasures of growing up in Latin America—and in the Buendia family.
On the Road (1957)
by Jack Kerouac
Kerouac's classic novel symbolizes the Beat movement and deftly captures the thirst for individuality in an era of conformity. This semi-autobiographical novel chronicles the exploits of Sal Paradise and Dean Moriarty as they travel across America in the late 1940s. This book is perfect for the summer road trip, though you may think twice about reenacting its plot.
All the Light We Cannot See (2014)
by Anthony Doerr
Boy-meets-girl becomes infinitely more complicated when said boy is an indoctrinated Hitler Youth and said girl is a blind, fiercely independent, French citizen. Marie-Laure is 14 when her father, a locksmith at the Museum of Natural History in Paris, disappears and she must flee to the home of her reclusive uncle and his walled city. Werner is a technology-obsessed German orphan who is "rescued" from the mines and sent to the Hitler Youth, where he proves his value, but begins to question the values of those he serves. Like the intricately detailed Paris neighborhood Marie-Laure's father builds for her in miniature so she can navigate her world, Doerr's construction is a microcosm of our nature—an exploration of light and dark—a glimpse into the heart of what makes us human.
The Amazing Adventures of Kavalier and Clay (2000)
by Michael Chabon
As a teenager, Josef Kavalier escapes Nazi-occupied Prague and travels on a circuitous—and decidedly cramped—journey to New York City to live with his cousin, Sam Klayman. Set during the golden age of comics, the novel follows the young men as they rise to the top of the budding industry. With World War II as a backdrop, the novel draws a stunning portrait of the politics, pop culture, art, literature, religious attitudes, and national sentiment of the period. Chabon won a Pulitzer Prize for the book.
Crying of Lot 49 (1966)
by Thomas Pynchon
Pynchon's postmodern classic follows Oedipa Maas as she executes the will of her ex-boyfriend, Pierce Inverarity, and her attempts to uncover the motive behind a global rivalry between two mail distributors, Thurn and Taxis and the Trystero. Along the way, Oedipa encounters unforgettable characters with unlikely names such as Manny Di Presso and Mike Fallopian. As coincidences collide, Oedipa becomes more and more obsessed with the origin of the Trystero organization and risks her life in her pursuit of answers.
Life of Pi (2001)
by Yann Martel
As the son of a zookeeper in Pondicherry, India, Piscine (Pi) Patel enjoys a fulfilling life, rich in knowledge and adventure. Political turmoil, however, uproots the family. On the way to Canada with numerous zoo animals in tow, their ship sinks. Only Pi, a zebra, a hyena, an orangutan, and a Royal Bengal tiger named Richard Parker survive. Pi must learn to navigate the perils of the sea and outlast his fellow passengers. During his journey, Pi draws on Christianity, Islam, and Hinduism as he develops his philosophy of faith and human nature. Martel won a Booker Prize for the book.
The Brief Wondrous Life of Oscar Wao (2007)
by Junot Díaz
The eponymous Oscar Wao (actually named Oscar de León) is an overweight, Dominican-American uber-geek with horrible social skills and an obsession with writing fantasy fiction. Oscar is plagued by a curse that has dogged his family for generations, and his tragic family saga is deftly woven into the book. The tragicomedy is packed with pop-culture allusions, Spanish phrases, and plenty of footnotes about Dominican history, which prove to be both appealing and aggravating. Díaz won a National Book Critics Circle Award and a Pulitzer Prize for the book.
The Omnivore's Dilemma: A Natural History of Four Meals (2007)
by Michael Pollan
Pollan analyzes the food industry and the ecology of food, tracing and comparing the production of four meals, which include foods that were industrially processed, organically produced, and homegrown. He examines the economic impact and ethical factors of each system. Pollan urges readers to be aware of the origin of the food that they consume and its toll on the environment. Many of Pollan's observations about our food culture are decidedly hard to digest.
The Historian (2005)
Elizabeth Kostova
This mystery, history, thriller weaves three chronological storylines into one vision: to find the body of Vlad the Impaler, or Dracula. Presented as a work of scholarly nonfiction, this book is a juicy—yet far from fluffy—summer read; a book that establishes a relationship with the reader that is 100% fascinating: three parts drama, one part dread.
.com/entertainment/books/recommended-read-during-summer.html