Cite
British Royalty

Barely Regal: A Timeline of British Royal Scandals
The British Royal Family has it all: runaway brides, mistresses, thieving butlers, and Fergie.
Royal scandals are more common than royal weddings. Some regal antics are so outrageous that if they happened in a movie, eyes would roll at the implausibility. Perhaps that is why royal scandals are irresistible. It's hard to imagine anyone would behave this way, much less royalty. Here's a look at the most egregious royal scandals over the last 100 years.

King Gives Up Throne for Wallis Simpson

In 1931, while King Edward VIII was Prince of Wales, he met the once-divorced and newly remarried American socialite, Wallis Simpson. They fell in love and carried on an affair, despite the King's disapproval. When King George V died in 1936, Edward ascended to the throne and sought to marry the then twice-divorced Simpson. British prime minister Stanley Baldwin rejected the idea because remarriage after divorce was opposed by the Church of England. Edward, as King, held the role of Supreme Governor of the Church of England. The clergy expected the King to uphold the Church's teachings and standards. Knowing the Church of England would never approve, Baldwin gave Edward three choices: give up the idea of marriage; marry against the prime minister's wishes; or abdicate. Edward chose to abdicate. In 1936 he passed succession to his brother, Prince Albert. Edward married Wallis the following year. They were known from then on as the Duke and Duchess of Windsor. Before, during, and after World War II, they were suspected by many in government of being Nazi sympathizers. After the Duke's death in 1972, the Duchess lived in seclusion until her death in 1986.

Royal Case of Cold Feet

Princess Margaret, the youngest sister of Queen Elizabeth, called off her marriage to Peter Townsend in 1955, after being engaged for two years. Townsend (not to be confused with The Who guitarist Pete Townshend) was a divorced war hero. Because he had been previously married, the engagement was controversial and an official wedding date was never set. For decades, it was believed that Margaret called off the marriage under pressure from the royal family, the government, and members of the Church of England because of Townsend's status as a divorcé. However, a letter Margaret had written to Prime Minister Anthony Eden surfaced in 2009 and indicated that she may have had a simple case of cold feet. In the letter, which was handwritten and dated August 15, 1955, Margaret reveals that she was "uncertain" of her love for Townsend, despite their long-term affair.

In 1985, Mark Phillips, Princess Anne's husband, fathered a daughter, Felicity, with his mistress, Heather Tonkin. Tonkin was an art teacher in New Zealand. Princess Anne and Mark Phillips divorced in 1992. In 1997, Phillips remarried, but not to Heather Tonkin. He married Sandy Pflueger, a successful American dressage rider.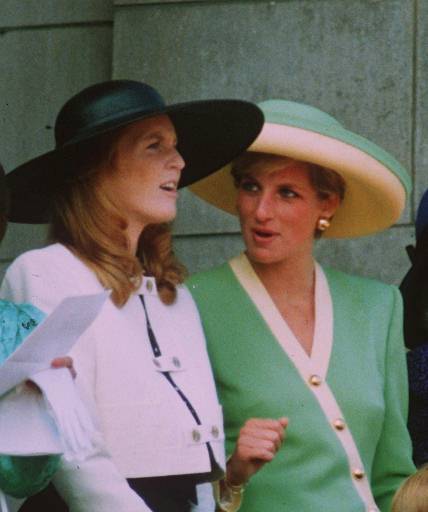 Sarah, Duchess of York and Diana, Princess of Wales
Source: AP Photo/Gil Allen

Fergie Steps on Some Toes

The Daily Mirror ran photos in 1992 of the wife of Prince Andrew, Sarah Ferguson, having her toes sucked by John Bryan, a wealthy Texas businessman. Fergie later described Bryan as a financial advisor. After four years of separation, Prince Andrew and Fergie divorced in 1996.

Diana's Confession

In a 1995 BBC interview, Princess Diana confessed to having an affair with her close friend and polo player, Major James Hewitt. Princess Diana and Hewitt, a former household cavalry officer in the British Army, carried on the affair for five years. During the interview, Princess Diana also admitted that she struggled for years with bulimia and depression.

After the death of Princess Diana in 1997, the flag over Buckingham Palace did not fly at half-mast. The Royal Family hesitated to get involved with Diana's funeral arrangements. These actions, or lack thereof, led to public outrage. It was only at the urging of Prime Minister Tony Blair that the Queen broke protocol and publicly described her grief over losing Diana. The Queen attended Diana's funeral. On the one-year anniversary of Diana's death, the Queen ruled that all flags at royal residences be flown at half-mast even though tradition had been that the Royal Standard flag was never lowered, not even on the death of a monarch.

The Butler Did It

Paul Burrell, Princess Diana's butler, was charged with stealing her possessions following her death. He was later acquitted. Burrell wrote an autobiography, A Royal Duty, about his career as a member of the Royal Family's staff. He also appeared on the reality TV show, I'm a Celebrity... Get Me Out of Here!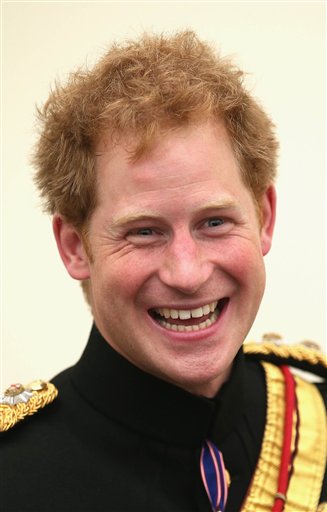 Prince Harry
Source: KGC-375/STAR MAX/IPx for Associated Press

Princes Behaving Badly

The Sun ran a front page photo in 2005 of Prince Harry dressed in a full-on Nazi soldier uniform. He apologized for the costume, which he had worn to a Halloween party. That same year Prince Harry got into a fight with a photographer outside a London night club.

As the fairytale wedding of Prince William and Kate Milddleton was being planned, the royal family found itself dealing with an inconvenient distraction: revelations that Prince Andrew, the Queen's second son, was friends with a convicted sex offender and was photographed with a teenage prostitute.

Fergie Gets Paid

In May 2010, a tabloid reporter posed as a wealthy businessman and caught Sarah Ferguson on videotape offering to sell access to her well-connected ex-husband, Prince Andrew. In the video, Fergie accepted a $40,000 down payment. She also falsely claimed Prince Andrew knew of the deal and had advised her to demand more than $700,000. Fergie said later that she had been drinking prior to the incident.

Prince Harry's Vegas Vacation Becomes a Royal Hangover

In August 2012, photographs emerged of Prince Harry and a woman, both naked, and playing a strip billiards game in a Las Vegas hotel room. The photographs were published on TMZ, a U.S. celebrity web site. Afterwards, the photos were confirmed by London palace officials. The 27-year-old prince flew back to London to face his family and possible punishment from the British Military. The incident came during an otherwise banner year for the Royal family. Queen Elizabeth II's diamond jubilee was celebrated by large, enthusiastic crowds. The Olympic Games in London were a huge success and the Queen was praised for her part in a para-diving spoof during the opening ceremony. Zara Phillips, Harry's cousin and the Queen's granddaughter, won a silver medal in an equestrian event at the games. Observing Prince Harry's attendance at the 2012 Games where he appeared almost every day and represented the queen, columnists in the British press commented that Prince Harry seemed to have matured beyond his "wild days." Those comments were made only days before the naked photos surfaced.