helmed this gritty, yet moving 1990 film, which was based on a play by John B. Keane.
was nominated for a Best Actor Oscar for his moving portrayal of a stubborn farmer who's outraged when he learns an Irish-American (
Daniel Day-Lewis
and director Jim Sheridan reunited for this intense docudrama about a group of Belfast ne'er do wells who were tortured into admitting to masterminding and executing a deadly terrorist bombing that killed five in Guildford, England. Gerry Conlon (Day-Lewis) and his father (Pete Postelthwaite) served in prison together, and the interaction between the two characters is both heart-wrenching and uplifting. The 1993 film was nominated for seven Oscars, including Best Picture, Actor, Director, Supporting Actor, and Supporting Actress.
Michael Collins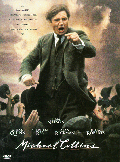 Michael Collins was a bold project for director Neil Jordan to undertake, as the title character is not a well-known figure on these shores, and he's a controversial one in Ireland and England. But he got a boost when the 1996 film and Liam Neeson in the title role won top honors at the Venice Film Festival.
Collins (Neeson) led the underground Irish Volunteers in their fight against English occupation of Ireland. He organized the group shortly after the Easter Uprising of 1916 and commanded the bloody fight between the Volunteers and English spies and troops stationed in Ireland. Jordan threw a love triangle into the mix, with Collins and his right-hand man Harry Boland (Aidan Quinn) both falling for Kitty Kiernan (Julia Roberts). Collins's reputation as freedom fighter and hero suffered irreparably when he compromised with the British, leaving Northern Ireland under crown rule. He was shot at age 31, and some suspected former ally Eamon de Valera (Alan Rickman) was in on plans to assassinate Collins.

My Left Foot
Far from a "disease-of-the-week" film, My Left Foot poignantly tells the true story of Christy Brown, an Irish writer-painter who was born with cerebral palsy and only had the use of his left foot. Daniel Day-Lewis won a Best Actor Oscar for his portrayal of Brown as an adult. Brenda Fricker won a Best Supporting Actress for her role as his mother. Day-Lewis's performance is an emotional tour de force, perfectly capturing Brown's mercurial temperament.
Odd Man Out
James Mason became a Hollywood star after this 1947 gripping chase movie. He plays IRA leader Johnny McQueen who's wounded during a botched bank robbery. He barely escapes and stumbles through the streets of Belfast, with the police quickly closing in. The film was remade in 1967, as The Lost Man, starring Sidney Poitier.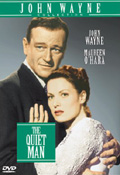 The Quiet Man
John Ford digresses from his dusty trademark Westerns with this spirited love story set in lush Ireland. And what a rewarding digression it is. This stunning labor of love earned Ford a 1952 Oscar, and its beautiful scenery and score were also recognized with statuettes.
The Snapper
The Curley family of working-class Dublin is thrown for a loop when 20-year-old daughter Sharon (Tina Kellegher) announces that she's pregnant but refuses to reveal the identity of the father. The news quickly spreads, and Tina's situation becomes the talk of the pub. Her father, played by Colm Meaney in fine form, is at first outraged and then protective of his daughter as the rumor mill churns at full throttle. The pregnancy doesn't hinder Sharon's nightly trips to the local watering hole, but it does go a long way in strengthening the father-daughter bond. A tight, briskly paced comedy anchored by fully realized characters. This was the second installment in Roddy Doyle's Barrytown Trilogy.
Some Mother's Son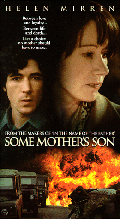 In 1981 Northern Ireland, a mother faces the heart-wrenching decision of whether to let her son die for his cause. Kathleen Quigley (Helen Mirren), once fiercely apolitical, finds herself in the middle of the Troubles after British police invade her home on Christmas day and arrest her son, Gerard (Aidan Gillen), for involvement in an IRA bombing. The 1996 film focuses on the hunger strike led by Bobby Sands (John Lynch) in which 10 protestors, including Sands, died.
The nonviolent protests were triggered by Margaret Thatcher's decision to have imprisoned IRA soldiers classified as criminals rather than political prisoners. Gerard participates in the strike, and when he slips into a coma, Kathleen has the legal right to have him force-fed. She finds a friend in Annie Higgins (Fionnula Flanagan), who also has a son near death. While Kathleen battles spiritually and morally with her son's fate, Higgins respects her son's wishes, no matter how painful the result. Some Mother's Son is a loose sequel to 1993's In the Name of the Father. While the earlier film pretended an objectivity, Some Mother's Son openly portrays the British government as a brutally oppressive regime. Moving but profoundly sad.
The Van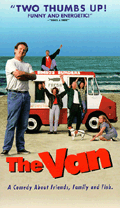 The Van is not as sharply observed or as boisterous as the first two installments of Roddy Doyle's Barrytown Trilogy, The Commitments and The Snapper, but it is a sincere portrayal of Dublin's working class. When bakery worker Bimbo (Donal O'Kelly) loses his job, he heads to the pub to commiserate with his out-of-work buddies.
Bimbo convinces his best friend, Larry (Colm Meaney), to go into business with him. They decide to peddle fried food out of a chipper van and scrape together enough money to buy a grease-infested, broken-down truck. Their timing could not be better. The 1997 film is set in 1990, when Ireland advanced to the World Cup finals. They park the van outside pubs on game nights and make a killing. But the partnership nearly destroys the friendship as Bimbo questions Larry's work ethic. The accumulating grime under Larry's fingernails doesn't help Bimbo's confidence.
Information Please® Database, © 2007 Pearson Education, Inc. All rights reserved.