Mutual funds blossomed in the 1970s along with IRAs and 401(k)s; consequently many of us may assume that mutual funds were born along with Generation X. In fact, much like a Grande Dame, they have been around for 75 years and have seen a lot of changes.
The first "open-end" mutual fund - the Massachusetts Investors Trust - was created 75 years ago. Since then, the number of funds and firms that manage them has grown tremendously.
From Well-Heeled to Grassroots: Mutual Funds in Review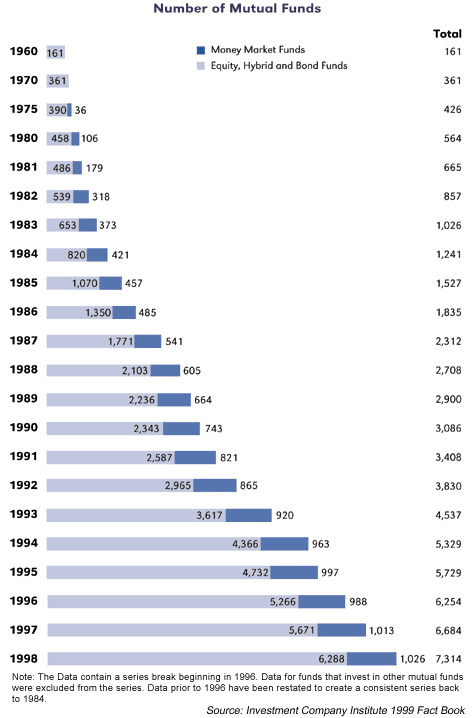 Mutual funds were created with the goal of giving middle-income investors a chance to pool their assets to buy a range of stocks and achieve diversified portfolios. Before the 1920s, most of those investors kept their money in banks, or bought shares in individual stocks.
The first mutual funds had higher minimum investments than what we are used to today, and were really still only an option for relatively well-heeled investors. They were also smaller than today's funds, and were comprised mainly or entirely of stocks. For example, when the Massachusetts Investors Trust was introduced in 1924 it held 45 stocks and $50,000 in assets.
It wasn't until the 1970s that the fund industry began catering to the average investor by offering lower minimum investment requirements and more variety. Mutual funds and money-market funds benefited from their ability to offer interest rates that were higher than what banks were allowed to pay on interest-bearing checking accounts, and also from the introduction of IRAs in 1974 and 401(k) plans in 1978.
(If you've ever wondered why banks were driven to offer free toasters to new customers, here's your answer - it was partly because of the intense competition created by mutual fund and money market funds for your money.)
The 1980s and 1990s have seen the innovation, growth and proliferation of the mutual fund industry, evidenced by the $6 trillion invested in mutual funds today. Before the advent of 401(k) plans, many funds were created to be the sole investment vehicle for an investor's long-term savings (commonly referred to as "balanced funds").
Helping Investors Diversify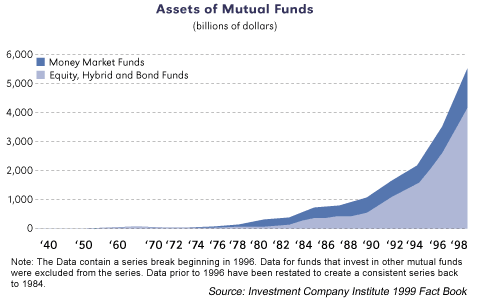 Gary Brinson co-authored a 1991 study, "Determinants of Portfolio Performance II: An Update," which revealed that "asset allocation" explained over 90% of a portfolio's risk. In other words, finding the best asset allocation is more important to investment performance than individual stock-picking or trying to guess whether stock and bond prices will move up or down.
Aside from being significant for institutions, this meant that individuals were now encouraged by the financial media and investment advisors to implement an asset allocation strategy.
The mutual fund industry responded to the demand, and helped create it, too, with aggressive advertising and the introduction of entire hosts of new funds, designed and marketed to focus on a specific asset class or investment niche.
Today, 77 million Americans in 44 million households own mutual funds. We have more choice than ever before. Though choice is good, the sheer amount of information required to make an informed decision can be mind-boggling. This is evidenced in the fact that more and more companies are hiring third party resources (such as 401k Forum) to advise their employees on a suitable investment mix for retirement.
Recent Highlights of Mutual Fund Innovation
Sector Funds
These days, virtually any sector of the market is represented by a host of mutual funds. Energy, technology, healthcare, utilities, real estate, and financial services are among the more popular sector funds. Less well-known sector funds find themselves in an even narrower niche of the market: Internet, regional banks, electronics, bio-tech and gold funds have about the narrowest focus as you'll find anywhere.
Since such funds are intentionally non-diversified, it is no wonder that the risk inherent to any sector fund is significant and performance is often extreme. Technology funds have been among the top-performing funds of this decade, while gold funds have been among the decade's worst.
Many mutual fund companies also have funds dedicated to investments in a single country or region, such as Japan, Latin America, Russia, and Europe. Funds with an extremely specific regional focus entail the political, economic and exchange-rate risks associated with a particular country or region, and can expose investors to above-average risk.
Lifestyle Funds
Lifestyle funds are today's answer to the investor who wants to own only one fund specific to his or her investment objective. These funds are typically labeled along the lines of conservative, moderate, or growth, and are designed to cater to the various levels of investor risk tolerance and time horizon. Lifestyle growth funds will have a majority invested in stocks, for younger investors, while conservative portfolios will have the majority of assets in bonds and other fixed income securities, for investors who are closer to retirement and need to reduce risk in their portfolios.
In order to simplify their investments, some investors prefer to have an all-in-one fund appropriate for their individual situation. The institutional community uses several different investment vehicles, one for each asset class, to create an overall asset allocation plan. This is possible given the wide variety of funds created to offer exposure specifically to one asset class, for example, large-cap growth, international, or intermediate-bond funds.
Balanced Funds
A balanced fund is a type of mutual fund that spreads its investments among stocks, bonds and cash equivalents in order to achieve moderate growth of both income and capital. Generally speaking, balanced funds are considered to be middle-of-the-road - neither too conservative nor too aggressive. They generally hold to a 60/40 mix of stocks and bonds.
Asset Allocation Funds
An asset allocation fund is a mutual fund that seeks both current income and capital growth. Despite its similar-sounding objective, an asset allocation fund is quite different from a balanced fund.
Balanced funds generally have limits on how much of their assets can be in stocks at any given time. These limits ensure that a balanced fund stays "middle-of-the-road" and never becomes too aggressive (or too conservative).
An asset allocation fund, on the other hand, seeks maximum levels of current income and capital growth. While some asset allocation funds adhere to pre-defined guidelines about how much to invest in different vehicles (stocks, bonds or cash), others retain complete flexibility to alter their allocation depending on the fund manager's outlook and the performance of different financial markets. Therefore, they could carry more risk than a balanced fund.
Index Funds
In the last five years, as many actively managed funds have lagged their benchmarks both because of higher fees and comparatively weak management, index funds have gained in popularity. The solid performance of the S&P 500 has given rise to funds whose objective is to mimic the returns of major indexes. Recently these funds have attracted much attention, and therefore, asset inflows.
The S&P 500 is just one of the many indexes that can be purchased as a mutual fund. The Wilshire 5000 index, a proxy for the total stock market (small, medium and large stocks) is popular due to its broad representation of the stock market (versus the S&P 500's focus on large stocks). Index funds can track small-cap stocks, bonds, or specific industry sectors. Expect more fund companies to offer index funds in reaction to years of solid performance, favorable press and investor demand.
Fund Supermarkets
In 1992, Charles Schwab pioneered the concept of the fund supermarket and opened up an entire new world to investors. Fidelity, Waterhouse, Jack White, and most of the major online brokers like E*Trade and Ameritrade now offer a myriad of choices on one site. Prior to the advent of fund supermarkets, investors either had to hire a full service brokerage account or open an account with each mutual fund family.
The brokerages listed above offer mutual fund choices that number in the hundreds or thousands. Many are no-load funds and some can be purchased without a transaction fee. The average investor now has a far broader selection and access to any type, style or size of mutual fund. In turn, many mutual fund companies have embraced these new distribution channels, as they've witnessed an influx of shareholder money (provided the funds performed well).
Global Trends and Innovation
Recently, large financial service players have raced to acquire mutual funds and the consistent revenue they can provide (taking a percentage of assets each year as a management fee). We can expect the consolidation in the financial services industry to shape the way mutual funds are distributed and marketed.
The global implications of mutual funds are equally as profound. Large U.S. investment firms are looking to tap the savings of foreign investors, while many large European financial institutions have strategically invested in U.S. companies to benefit from the success of this country's mutual fund industry.
Social security issues, further deregulation of the financial industry and world-wide demographics will likely play a significant role in shaping the industry as well. If the past can be any indicator of the future, the new millennium will continue to bring change, excitement and growth to the world of mutual funds!
Interested in learning more about mutual funds? The Investment Company Institute has an informative website devoted to mutual funds.