Risk

Who can tolerate a lot of risk?
Only the young, of course!
Well, youth is a relative matter, but the longer you have to invest the more short-term risk you can afford. This is why getting an early start on retirement investing is so crucial.
Simply put, if you won't need the money for a long time, you can endure some fluctuation in the market. This is because you have a longer time over which to make small adjustments to your financial plan. You also have more time to invest and earn back any losses.
Rather than thinking about whether you have a high risk tolerance by nature, think about why you are investing and when you will need the money.
If you're saving to buy a house in two years, you can't afford a lot of fluctuation, because you don't want to take the chance of your investment being down when the time comes. You would probably want to put the vast majority of your money into investments such as CDs or Treasury Bills (T-Bills), which have low volatility.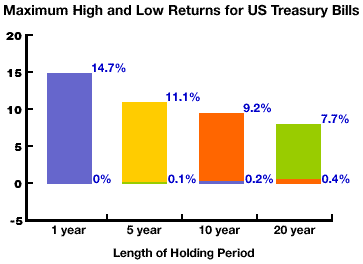 As you can see, T-Bills have never actually lost money, even over one-year holding periods.
For a medium-term goal such as saving for a child's education, you might be able to afford a little more risk. You wouldn't, however, want too much exposure to highly volatile investments, since the time frame from birth to college is not exceptionally long. In this case, you might place a large portion of your money in bonds, which are more volatile than T-Bills, but still less volatile than stocks. The same goes for retirement savings if you start saving less than about twenty years before retirement.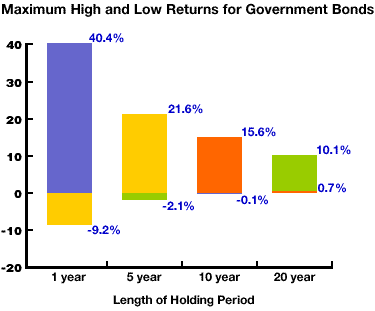 Over short holding periods, the value of bonds can decline substantially but they are still considerably less volatile than stocks.
If you have several decades to go before retirement, you may be able to afford investing heavily in the stock market. In fact, you might want to consider whether you can afford not to invest in stocks when you have a long-term goal.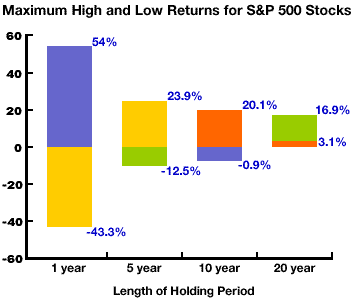 There's no way to pretty it up: over the short term, stocks can get pretty badly beaten. But they can also make the highest potential returns -- both short-term and long-term -- of any investment. And over holding periods of twenty years or more, stocks have historically made at least some money.
Achieving your goal is what really matters in investing. As long as you get what you want from your investments at the end of your time horizon, it doesn't matter how much your account fluctuates in the interim.