Introduction

What are IRAs, and Who Owns Them?
An IRA is a kind of individual savings plan that gets special tax treatment at the federal, and sometimes state, level. This tax-favored status is what distinguishes an IRA from an ordinary savings account. You have to play by the rules to get the tax savings -- and IRA rules are stricter than those for ordinary savings accounts.
At least 30 million US households owned some type of IRA as of mid-1998, according to a study by the Investment Company Institute, and the number is growing.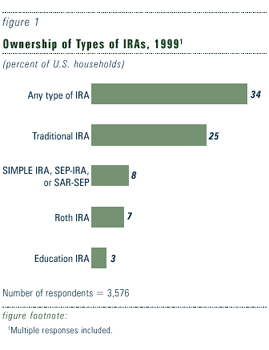 Many investors are unclear about the different rules for different IRAs -- traditional, Roth, Education, etc. It is important to review those rules and your own situation, possibly with a professional financial advisor, before deciding what is best for you.
IRAs and Retirement Planning
Saving in an IRA is an important way to prepare for retirement.
Your money grows tax-deferred
You may get a tax deduction for your contributions (with a traditional IRA)
The interest you earn may not be taxed even when you withdraw it (with a Roth IRA)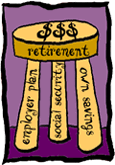 The reason so many people are investing in IRAs is that they realize that personal savings will provide an important part of their retirement income. In the retirement planning world, personal savings (including IRAs) is often referred to as the "third leg" of the retirement "stool." The other two are a company-sponsored retirement plan and Social Security.
IRAs and Employer-Sponsored Plans
Even if you have a 401(k) or other employer-sponsored retirement plan at work, it's a good idea to know about IRAs. You might want to open one in addition to your workplace plan, in order to save even more for retirement. Or, if you leave your current job, you might need to roll over your workplace plan into an IRA in order to continue your tax-deferred saving.
IRAs offer certain advantages over 401(k) and other employer-sponsored retirement plans:
More flexibility for withdrawals
The possibility for more investment choices
Tax-deferment possibilities for beneficiaries in some cases
But they also have some disadvantages:
Annual contributions limited to $2,000
No employer match
Contributions may not be tax-deductible
No loan possibility
IRAs come in all shapes and sizes. There's even one kind -- the Education IRA -- that's not earmarked for retirement at all!