Bill Terrell is a meticulous planner.
Recently he entered two years of living expenses into his home computer's personal budgeting program and calculated what it takes him to live. Ask him how much a day's living costs him and he can tell you: $54.67. A year? $19,682.82.
He's paid off the mortgage on his house, which has a swimming pool and two satellite dishes. The only debt he has is on his car. Between retirement and non-retirement savings, his net worth is over $1.25 million.
But there's a fly in the ointment. The 50-year-old, single Texan expected to retire in 2000. What he didn't foresee, in his carefully concocted life plan, was being laid off by his employer in 1999.
"Reality hit before I had it scheduled," he lamented.
His forced retirement raised an issue that many workers don't expect to address until their sixties: "Now that I have my retirement money, what am I going to do with it?"
The answer isn't simple. Many people cash out of their 401(k) plans and suddenly hold in their hands more money than they've ever held before. It's tempting to use it to splurge on luxuries. Instead, they need to figure out how to make it last through retirement, says Ted Benna, the creator of the first 401(k) plan. In the meantime, they need to navigate a complicated set of rules concerning beneficiary naming, estate planning, taxes and withdrawals.
Said Terrell, who's scrambling to educate himself about how to manage his retirement, "I'm like a kid, there's so much I don't know."
This article aims to help you become familiar with some of the major issues you can expect to encounter as you reach retirement, and ways to tackle them.
The Five Big Issues Retirees Face

Mark Willis, vice president of financial education with Aetna Financial Services, ticks off five main issues new retirees need to think about: income and outflow, lifestyle, housing, health care and estate planning.
Where's the money coming from, where's it going, and how long you will need it?
On the income side, you'll most likely have Social Security. But Social Security isn't meant to provide your entire retirement income. Do you have any pension money coming, or money saved in a 401(k) plan, IRAs, annuities or non-retirement account? Do you plan to augment your income with another full- or part-time job?
How much will you spend on housing, utilities, food, clothing, travel, hobbies, or other items or activities? Even if you pay off your mortgage by the time you retire, maintaining a house could still cost $5,000 or more a year.
On average, people 65 and over spend about $25,275 a year to live, the Department of Labor says in its 1997 Consumer Expenditure Survey (the most recent one available).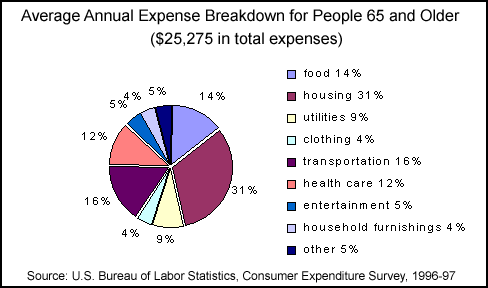 "Your average life expectancy at age 65 is (another) 17 1/2 years, but many can expect to live longer."

- Paul Yakoboski,
EBRI
Finally, how long will you need the money? Of course, this will be an estimate, but you should err on the side of caution. "Your average life expectancy at age 65 is (another) 17 1/2 years, but many can expect to live longer," said Paul Yakoboski, a researcher at the Employee Benefit Research Institute.
Underestimating your life span can cause unhappy results. Michelle Anderson, vice president of personal investment counselors with First Union Brokerage Services Inc., recalls the story of a woman acquaintance who bought an annuity on retirement.
The annuity expired when the woman turned 85, an age she had never expected to reach. "Now she lives with her son, with no money of her own. If she didn't have a son, she would be in a state facility," Anderson said.
"A lot of my older clients plan to live to 80 or 85, … my younger clients plan to live longer than that," Anderson said. (Annuities are available that make payments over your lifetime, and some will continue paying benefits to your spouse after you die. Be sure to carefully check the different annuity options before buying one, if that is what you decide to do.)

2. Lifestyle
What kind of lifestyle will you have when you retire? Will you work? Volunteer? Pursue hobbies? How expensive or lucrative will your pursuits be?
About 29% of today's retirees still work, according to EBRI. And of today's workers, about 68% expect to work in retirement.

3. Housing
Will you stay in your current home, or move? Many retirees prefer to leave cold climates for warmer ones. It's a good idea to factor potential moving expenses into your retirement income needs.

4. Health Care
How will you cope with increased needs and costs for health care? Some retirees get medical retirement benefits from their employer. You will also receive some benefits from Medicare. Have you factored in the potential need for long-term health care?

5. Estate Planning
Do you want to use up all your money by the time you die? Do you want to leave money for a spouse, children or grandchildren? If so, what steps will you take so that they can avoid big inheritance tax hits?
It's a good idea to see an estate attorney to figure out how to avoid the many minefields in this area, Willis says.
How To Reduce Your Worries
Now that you know what to worry about, here's how to reduce some of the fretting.

Start Planning Before Retirement
Start planning for post-retirement early. Most people spend 40 to 45 years working and preparing for their golden years. But few folks have much of an idea of how to manage their retirement assets once they get there.
"You want to start thinking about retirement six months to a year before you do it."

- Ted Benna
"You want to start thinking about retirement six months to a year before you do it," said Ted Benna, creator of the first 401(k) plan. "There are economic preparations you need to do."
A year out, you should look at your portfolio and calculate whether it will last through retirement. Remember that often, your retirement accounts gain the most in the years prior to retirement. Stopping work early could limit these gains. Also, if you retire early and find you don't have enough saved, it could be tough rejoining the work force.
Tom Lewis is doing his planning now. Currently 53, the New Jersey resident hopes to retire in two years. He and his wife have about $850,000 saved for retirement. But, he's not sure what to do with it. A substantial chunk of his retirement money is tied up in company stock.
Lewis is debating whether to leave his 401(k) as it is -- invested entirely in company stock -- or pull it out and invest in mutual funds. He's attending retirement seminars, reading magazines and surfing the Internet. "I'm not looking for a lot of money each year. If everything comes out right and I earn 8% return, that should be plenty to live on," he said.
Lewis also is prepared to work seven more years if his investments start to sour. The fact that he has developed alternative strategies is a prudent move.

Consult With Financial Professionals
Regardless, Lewis should seek professional advice, say financial planning experts.
"Anyone with that net worth needs a full-rounded financial planner, to talk about insurance, taxes, the direction to go with retirement accounts," said First Union's Anderson. She also urges less-wealthy retirees to see a financial planner.
The myriad of decisions which new retirees need to make can be facilitated by a skilled advisor. This person should help you:
decide how to take income distributions
decide how to make your money last through retirement
determine investment strategies
develop preliminary estate plans
draw up the necessary legal documents (this would be done by an estate attorney)

Choosing a financial planner can be a challenge.
In a traditional defined-benefit pension plan, someone else manages the money for you. With a 401(k) plan or IRA, you take a more active role, but it still may be limited to an annual review of fund performance. Once you retire, suddenly you need to figure out all aspects of money management including how much to withdraw, and how often.
Don't expect your employer to help you. Many will automatically cash you out of your 401(k) plan at retirement. Even if yours doesn't, you may want to get the money fully into your control anyway by rolling it over into an IRA, buying an annuity, or taking a lump sum distribution.
Remember, if you take the lump sum distribution and invest it in a taxable account, you could face a huge tax bill. You should look for a way to continue the tax deferment.
Anderson, of First Union, advises her clients to put the money into a single rollover IRA. This way they continue to defer taxes while making regular withdrawals. "It compounds your growth," she said.
Putting all the money into a single IRA also simplifies record keeping and eases the management of regular withdrawals, she said.

Ted Benna has some advice on this subject, too.
Expect to continue to actively manage your investments. Putting your retirement money into fixed income assets, like your parents did, won't keep you ahead of inflation. "With life expectancies getting to 25 years in retirement, you need a decent equity allocation to keep ahead of inflation," said Aetna's Willis.
Historically, the stock market has beaten inflation. However, there's no guarantee that trend will continue. Additionally, you may not feel comfortable putting your money in stocks. But, you need to find investments that will allow your money to grow faster than inflation. It would also be nice to have a raise.
"If you're taking out 7% a year and your money is averaging a 10% return over time, then you are compounding 3% a year. So, every five years you can give yourself a raise," Anderson said.