How long will the stock market continue to rise in the next millennium?
That's the question everyone with retirement money invested in the market wants answered. The honest response is: "it's uncertain."
But some things about the 401(k) of the future do seem certain. For one thing, you'll probably have more investment choices. Ordinarily that would mean boning up on learning how to pick funds, but you might not have to, because investment education and advice will be increasingly available. More employers will probably let you start stashing money into your 401(k) plan on your first day at work, and you'll likely be able to use the Internet to research funds and manage your 401(k).
Here's what you can expect from your 401(k) plan in the coming years, based on current trends.
More Investment Choices

A common gripe from 401(k) plan participants is: "I don't like my investment choices!"
"401(k) buying decisions are strongly influenced by what employees tell their employers they want," said Ted Benna, creator of the first 401(k) plan. "Pressure from participants will be even more influential in the future than it is today," he said in a speech in Tokyo in December.
Those complaints aren't falling on deaf ears. Employers are also enrolled in the plans. As a result, they have a personal interest in seeing strong retirement-plan performance.
Consequently, employers have been increasing the number of investment options offered. In 1995, 22.2% of companies offered five investment fund choices and 65% offered six or fewer investment choices. By 1998, 17% of companies offered between 11 and 15 funds, and 74% of companies offered six or more fund choices, according to the Profit Sharing/401(k) Council of America's (PSCA) 42nd Annual Survey of Profit Sharing and 401(k) Plans survey.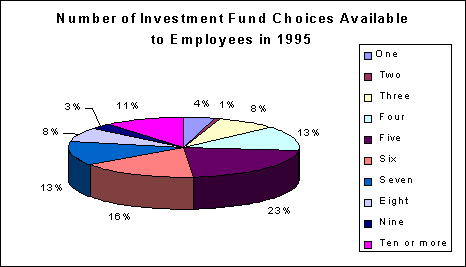 Source: Profit Sharing/401(k) Council of America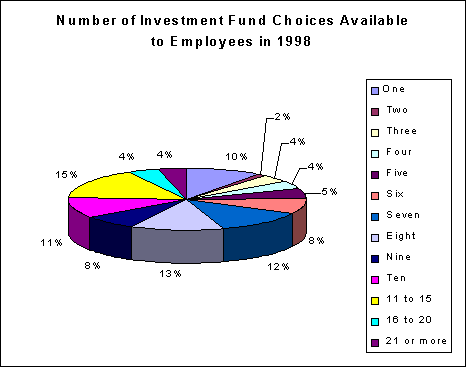 Source: Profit Sharing/401(k) Council of America


"We see a continued increase in the number of funds offered," said Paul Yakoboski, senior research fellow at the Employee Benefit Research Institute (EBRI). "There's more diversity."
One new type of fund that emerged recently is an employer-managed fund, Benna said. Some employers realized that retail mutual funds weren't giving large enough management fee reductions considering the amount of money they funneled into the funds. So they have started hiring their own fund managers, or even running their own funds, said Benna, adding that this trend is most prevalent at large employers.
One of the hot new investment choices is called a brokerage window, or self-directed investments. This option lets you invest in almost any security sold by brokerage houses. In essence you can invest in individual stocks. In 1998, about 7% of plans surveyed by the PSCA offered workers brokerage window investment options.


"Within the foreseeable future, there will be unlimited fund (choice)."

- Trisha Brambley
President
Resources for
Retirement Plans Inc.
"Within the foreseeable future, there will be unlimited funds," said Trisha Brambley, president of Resources for Retirement Plans Inc., a retirement planning consulting firm.
Another investment option that's growing in popularity is lifestyle (or life-cycle) funds, said David Wray, PSCA president. These funds are targeted toward different age groups or different risk tolerance levels. They are ideally suited for people who don't have the interest or time to manage their retirement money, he added. About 20% of funds offered this option in 1998, the PSCA found.
Say you're an older worker, in your 60s, concerned about preserving the nest egg you built through your career. A lifestyle fund geared for someone your age may invest in more conservative securities such as bonds and money market funds. On the other hand, lifestyle funds for younger workers tend to invest in less conservative securities.
Shorter waiting period
Concerned that few workers, especially young ones, are taking advantage of their retirement plans, employers are trying to make it easier for employees to get involved. One way they're doing this is by shortening the period new employees have to wait before they are eligible to participate in retirement plans.
Five years ago, it was common for a new employee to have to wait a year before enrolling in a 401(k) plan. Now, "many employers are shortening to three months," Brambley said.
In today's fast-paced economy, workers switch jobs quicker than ever. The median number of years workers had been with their current employer was 3.6 in February 1998, down from 3.8 years in February 1996, the Bureau of Labor Statistics says. Among workers 25 to 34 years old, the median job tenure in February 1998 was 2.7 years.
When employees change jobs and have to wait a year to become eligible to participate in their new employer's 401(k) plan, they can't take advantage of continuous savings, and their nest eggs suffer, Wray said.


"The system is moving in a direction which lets people save on a continuous basis."

- David Wray
President
Profit Sharing/401(k)
Council of America
Historically, employers didn't want to offer 401(k) plans to new employees because those workers participated at a low rate. That low participation rate resulted in the company failing non-discrimination tests, Wray said.
In 1997, a new law took effect that allows employers to offer immediate enrollment into retirement plans and not count new employees toward discrimination testing.
"The system is moving in a direction which lets people save on a continuous basis," said Wray.
Automatic enrollment

Some employers are taking this one step further and automatically enrolling their employees in the company 401(k) plan.
According to a new study by Hewitt Associates, in 1999 about 7% of plans offered automatic enrollment. "I think if you look forward (five years), 25% of companies will have auto enrollment," Wray said.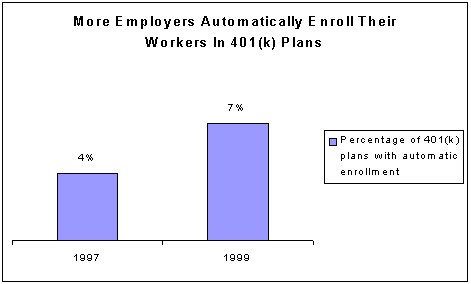 Source: Hewitt Associates


Internet Use on the Rise
Now that you can enroll in your plan faster and choose from a larger number of investment options, how do you do it?
The Internet.


"44% of companies used the Internet for retirement plan administration in 1998"

- PSCA Annual Survey of Profit
Sharing and 401(k) Plans
You can hop on the Internet and check out Web pages offering glossaries, frequently asked questions, how-to-articles and analyses of fund performance.
Workers can log on to company web sites to do everything from enrollment to final distributions. In between, they can check fund balances, make contribution changes, take in-service distributions and model loans, the PSCA says.
Indeed, this record-keeping aspect is a leading reason why employers are turning to the Internet.
"We won't do away with paper," said Wray, of PSCA. "Rather than paper being the primary system of tracking retirement plans it will be the Internet. Every facet of the retirement system will be managed through the Internet," he predicted.
Education Through Advice

If you're a highly paid employee, you can probably afford to see a financial planner who will tell you how to divvy up you retirement savings so you end up with a big nest egg. If you aren't, you might not be able to afford the several hundred dollars a year that one costs.
So, another hot trend is for employers to offer investment advice.
"When you come down to it, the vast majority of workers… don't want to be educated, they want to be told what to do," EBRI's Yakoboski said.


"When you come down to it, the vast majority of workers…don't want to be educated, they want to be told what to do."

- Paul Yakoboski
Senior research fellow
EBRI
But, employers have been reluctant to take on that fiduciary responsibility.
If you have a high retirement fund balance, your fund provider may provide investment advice for free. But for modest balances, it's not worth the provider's while.
Again, it's the Internet to the rescue. A number of firms, Internet startups as well as established media and financial services companies, are using the Internet to deliver sophisticated investing advice at affordable prices. mPower (link), the publisher of 401Kafe, is one of a growing number of companies offering fund-specific investment advice via the Internet.
Currently, the big question is: who pays for such advice?
It's likely that vendors who bundle retirement packages will bear the cost of advice, as a marketing incentive, Brambley said.